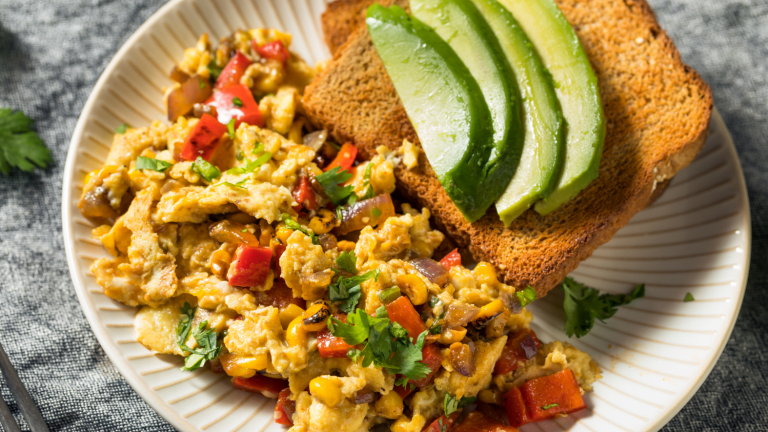 Breakfast for Dinner Hearty Egg Scramble
This tasty egg recipe makes a great dinner for busy families.
Are we having that for dinner again? Whether that is what your kids are saying or what you are thinking, the same old dinner routine can be boring for everyone. I, too, get caught up the same old (aka easy way out) and end up making the same thing week-after-week. One way to mix-up the routine (with minimal effort) is to have breakfast-for-dinner. This hearty egg scramble recipe makes a great dinner for busy families.

Why Breakfast for Dinner is Genius
Chicken, fish or pasta have become the staples around here. Not because I don't want to eat anything else but with a busy schedule it can be difficult to be creative, especially with dinner. This way you can have a comforting meal and still keep it simple with ingredients that you already have at home-- think egg dishes, waffles or even a simple bowl of cereal. On top of making these easier and a little interesting having BFD is a novelty for children who can even pick their choices and even help out with the cooking. Here are some of my favorite breakfast-for-dinner recipes.
Egg Scramble
Not only are you and your family getting a good dose of protein and omega 3, eggs are so versatile to cook with and they go with pretty much go with any combination of ingredients. I recently made a scramble with tofu, cheese, beans, spinach and tomatoes that was a big breakfast for dinner success story. Modify the ingredients based on what your kids like and try a side salad or avocado to complete the meal.
Egg Scramble Ingredients:
3-5 eggs (depending on your family size)
½ cup of organic milk
¼ cup of frozen spinach
¼ cup of firm tofu
2/3 cup of black beans
½ of a tomato, chopped up
1 tablespoon of butter
2/3 cup of cheese (I used a cheddar oat cheese from Trader Joe's)
Mixed greens (optional)
Avocado slices (optional for serving)
Egg Scramble Directions
Beat the eggs and milk together. 
Turn on flame and add some butter. 
When butter is melted, add the egg mixture, along with the tofu, black beans, cheese, tomatoes and spinach. 
Keep flame on low and watch over the mixture, beating it with a fork until it cooks. 
Serve with a salad, avocado and maybe toast.
Other Breakfast for Dinner Options:
Oatmeal with raisins, yogurt and flax seeds
Bagel sandwich with eggs, avocados and cheese
Whole-wheat waffles with fresh fruit
MORE FOOD FEATURES FOR YOUR FAMILY FROM MOMTRENDS
PIN IT!
Use Pinterest to save your favorite recipes. Be sure to follow our Kid Food Pinterest board here.