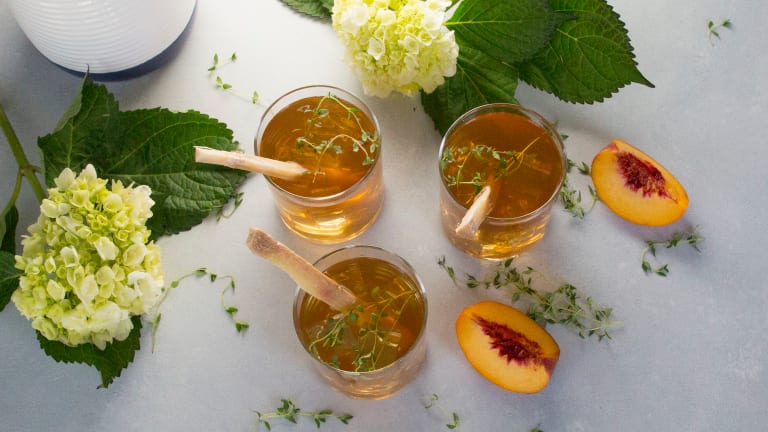 You're Going To Love This Bourbon Peach Thyme Sweet Tea Cocktail
This bourbon cocktail is a celebration of summer flavors and is the perfect drink for the warm days ahead.
Uh-oh, ladies, my roots are showing...my southern roots that is. Many of you many only think of drinking bourbon when watching the Kentucky Derby in May, but please reconsider. This bourbon peach thyme sweet tea cocktail screams summertime in the south.  A celebration of summer flavors pairs perfectly to quench your thirst, it's the perfect drink for the warm days ahead.  I bet you cannot enjoy a sip without letting an "ahhhh" slip out!
Related: Strawberry bourbon smash cocktail recipe
Bourbon Peach Thyme Sweet Tea Cocktail
A real vacation in a glass, you'll love the slow relaxing lazy spin this libation will bring to your afternoon.  So sit back, take a sip, and enjoy life for a moment.  Watch the kids play in the sprinkler and soak up the last of the dog days of summer.
Soon we will all be back to business with school, sports, and other extracurriculars.  One more reason to kick back and enjoy the last bits of summer, right?
And since this is the perfect summertime treat, this recipe makes a pitcher.  So you can share, but, only if you want to share, of course.  
Bourbon Peach Thyme Sweet Tea Cocktail Ingredients
 makes a 2-quart pitcher
Simple Syrup
1 cup Sugar
1 cup Water
1 Peach, diced
5 Sprigs of Fresh Thyme
Tea
4 Black Tea Bags
8 Cups Filtered Water
Cocktail
Ice (optional)
Black Tea
Simple Syrup 
1/4 Cup Peach Schnapps
3/4 Cup Bourbon
Bourbon Peach Thyme Sweet Tea Directions
Simple Syrup
Combine all ingredients in a small saucepan and bring to a boil.  T
urn down to a simmer and hold for 10 minutes or so.  Peaches should be breaking down and soft when ready.  
Remove the thyme sprigs and discard.  
Smash the larger pieces of peach into smaller chunks with a fork.
Refrigerate until ready to mix the cocktail.
Tea
Bring four tea bags and 2 quarts of water to a boil. 
Remove from heat and cover.  
Allow the tea bags to steep for 5 minutes.  
Transfer the tea to a pitcher.  
Refrigerate for 1-2 hours (until chilled).  If you are in a hurry, serve over ice as it will melt and chill the tea quicker.  You still may need some refrigerator time to chill the tea.
Cocktail
Add bourbon and peach schnapps to chilled tea.  
Stir.  
Serve over ice and garnish with fresh peaches, thyme, and/or sugar cane.
Happy Sipping!
More Bourbon cocktails from Momtrends
PIN IT!
Use Pinterest to save your favorite cocktail ideas. Be sure to follow our Drinks board here.