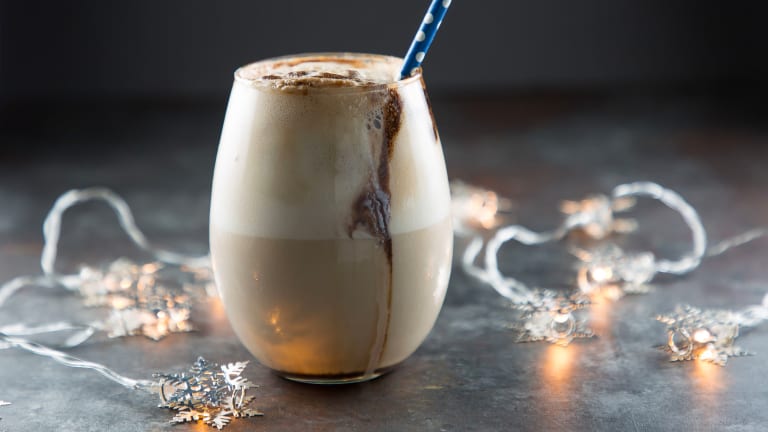 Boozy Root Beer Float Recipe
This boozy root beer float is the perfect fun holiday entertaining cocktail.
I hope everyone has had a fantastic week! The holidays are in full swing here and I have been baking up a storm. Seriously, cookies are taking over my kitchen counters. It's time to share this Boozy Root Beer Float recipe.
Thankfully, I have learned the perfect trick to keep myself from eating them. I can't eat gluten so I've made the past few batches with regular flour making them impossible for me to snack on. Boom, the control I obviously don't have made simple. We always bake and give cookies to family and friends, so this time of year I am always in the kitchen.
While baking last weekend we decided to have a cocktail. Surprise! We wanted something that the kids could have too so they didn't feel left out. The holidays are about inclusion, right? This boozy root beer float is the perfect fun entertaining cocktail. The kids can have the virgin version and they can relish in the fact they are having a special drink like mommy. Win-Win as far as I can see.
As if Haagen Dazs isn't a treat in itself this cocktail plays on nostalgia and takes you back to your childhood. I remember having root beer floats with my dad and it was always a special treat.  There are several hard root beer's available on the market these days so pick your favorite and start layering away. 
To put this cocktail together I simply placed 1 small scoop of vanilla ice cream in the bottom of the glass and added a swirl of chocolate syrup. After the syrup, add 1/3 of the beer. Continue this layering method until your glass is full. Top with an extras scoop of ice cream and an extra swirl of chocolate. Nostalgic and delicious.  A great combo if you ask me!
Ingredients for Boozy Root Beer Float Recipe:
1 Hard Root Beer
4 Scoops of Vanilla Ice cream
2 Tablespoons of chocolate syrup
Layer in your favorite glass or mug and enjoy.
Happy Sipping!
Get more root beer
Try this Root Beer Float Cupcake recipe OurFamilyLifestyle.com  and our classic Root Beer Float recipe here. 
More Fun Cocktails from Momtrends
Pin it!
For more fun recipe ideas, be sure to follow the Cocktail Chic board.
This is not a sponsored post.