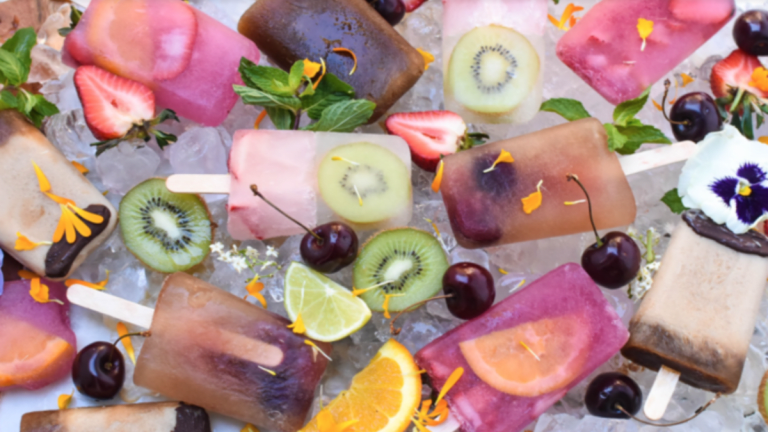 Popsicles With a Kick: 3 Booze-Infused Ice-Pops
We have three delicious and punch boozy popsicle recipes with a kick to enjoy before summer's end. These are great on a hot day or balmy evening.
I am not ready to let go of summer just yet. And I'm certainly not ready to let go of my favorite summer cocktails and treats! It feels like just yesterday we were ringing in the season with a roundup of our favorite rosés and recipes... Where does the time go?
Related: Perfect summer champagne and popsicle cocktail
While some mamas have already sent their kiddos back to school, and others are eagerly awaiting their annual apple-picking outing and autumn's first pumpkin spice latte, I'm holding on to every last minute of summer fun and sun.
3 Booze-Infused Ice-Pops
By my measurement, I still have until Sept. 22 to sip crisp blush wines and fruity spritzers and devour frozen pops.
In fact, we have a few new boozy ice pop recipes to make the last few weeks of the season even sweeter. You still have 28 days to enjoy them... but who's counting?
Sangria Pop
1 ounce Stella Rosa Black
1 ounce lemonade
½ ounce orange juice
1 orange slice
1 lemon slice
½ chopped strawberry
Cherry Lemon Caipirinha
½ ounce Novo Fogo Sparkling Silver Cachaça
2 ounces lemonade
chopped cherries
Reverse Manhattan
¾ ounce Carpano Antica Formula
¼ ounce Templeton Rye Whiskey
½ ounce cherry juice
1 ounce water
chopped cherries
Method:
Mix each pop individually in mixing cups
Fill popsicle molds (silicone is best)
Place in freezer for approximately 5 hours
Remove from mold and consume immediately or place in freezer bag for later
Enjoy! The weekend is fleeting... and so are Popsicles!
MORE WINE LOVERS FUN FOR MOMS
PIN IT!
Use Pinterest to save your favorite cocktail ideas. Be sure to follow our Wine Time board here.
This is not a sponsored post. All opinions are our own.