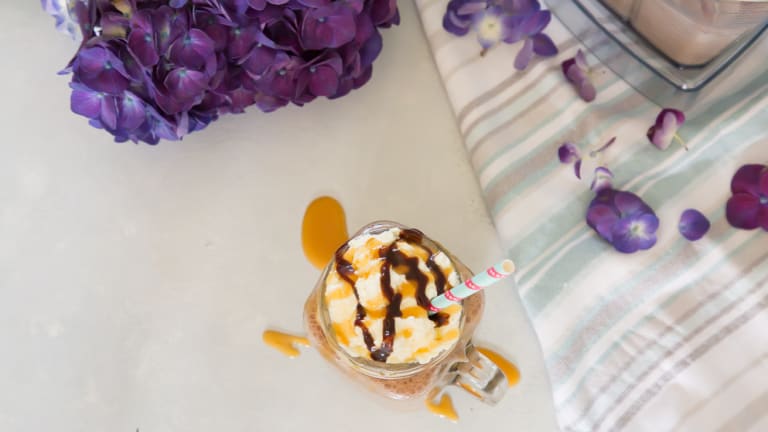 Boozy Mocha Frappe
Hey coffee lovers, whip up this frosty treat for an adult dessert cocktail.
Now that we are getting back into the swing of school, sports, and homework, life is a bit more hectic than it was in the summertime.  If you are anything like me, this means extra coffee. After the first few weeks, I've adjusted to the routine fairly well. It's those first weeks that get me every year. 
Who Needs a Frappe?
So, what's a tired mom to do for an afternoon pick me up?  I personally recommend (and thoroughly enjoy) this Boozy Mocha Frappe. This is an especially delicious adult version of an already favorite of mine.  Who doesn't love mocha frappes?  
And for those of you wondering, a frappé (pronounced frap-pay) is an iced beverage that has been shaken, blended or beaten to produce a tasty, foamy, and refreshing drink.
I'll be honest, I've deliberately not run the nutrition on this tasty caffeinated treat.  Pretty much because I don't want to know. I refuse to feel guilty for treats every now and again.  
What's the saying?  YOLO...Yep, I claim YOLO for this decadent beverage.  And, I'll enjoy every last refreshing sip. You will too if you give it a try.  
Besides, when you haven't done algebra in 20 years and you are trying to explain to your child why there are letters in math and that they will need it in the future, it helps to have a little something extra in your hand.
If for nothing else, to make you feel better that you don't remember how to solve for the variable. I actually like math, but I am dreading helping my son because everything is taught so differently now. But coffee + liquor is one equation, I can always get behind. 
Yes, I tend to accept change a bit better with something chocolatey and boozy.  If it's wrapped into one delectable drink, wonderful! Maybe I saved a few calories, maybe not.  
So, are you ready to whip up this frosty treat?
Boozy Mocha Frappe Ingredients
makes 1 frappe
2 ounces unsweetened almond milk
2 2/3 ounces cold brew coffee
1 ounce Bailey's Almande Liqueur
1/2 ounce marshmallow vodka
1 cup ice
1 tablespoon chocolate syrup
whipped cream (optional)
caramel sauce (optional)
chocolate syrup (optional)
Boozy Mocha Frappe Directions
Add all ingredients to your blender and blend until smooth.
Transfer to your favorite glass.  
Garnish with whipped cream, caramel sauce, and chocolate sauce. Add a straw and enjoy!
Happy Sipping!
If you love this Boozy Mocha Frappe please share!  
More Chilled Cocktails
PIN IT!
For more fun recipe ideas, be sure to follow the Cocktail Chic board.