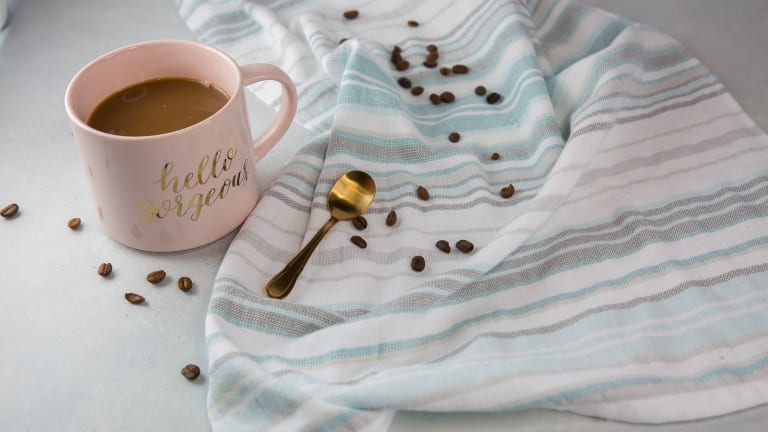 Boozy Hazelnut Coffee Cocktail
Hazelnut creamer is one of my favorite additions, but this boozy coffee cocktail version takes it one step further.
Another week, another cocktail recipe, girls. Last week, I must confess, I thoroughly enjoyed the strawberry bourbon smash cocktail. With family in town for my son's 4th birthday, there were reasons to celebrate. This fall we've switched it up to a warming cocktail a Boozy Hazelnut Coffee recipe.
Boozy Hazelnut Coffee Cocktail
This weeks cocktail is just as scrumptious. Anyone who knows me can tell you that I have a very strong admiration for coffee.
Every time I see a study that highlights the nutritional benefits of coffee, I literally jump for joy.  
Everyone wants their vice to be "healthy" right?
With my said love for this steaming hot, life and energy giving beverage I make quite a few of my cocktails with coffee.
This particular cocktail recipe is sweet and oh-so-delicious.  
Hazelnut creamer is one of my favorite additions, but this boozy version takes it one step further.  Yay!
I start with regular sized (about 8 ounces) mug of black coffee. To it, I add 1 shot of half and half (or more if you'd like), 1 tsp of hazelnut syrup, 1/2 shot of Frangelico, and 3/4 of a shot of Remy Martin.
Stir.
Now, before you taste this delightful concoction, I want you to take a deep breathe and inhale the aroma of this sweet, delectable cocktail.  
I know, sounds corny. This scent resets my day though. Completely. I obviously don't start my day with this cocktail, but I adore a late afternoon mug.  
Especially those crazy hectic days where you run around doing everyone's bidding and you just need a moment to yourself.  
This is your moment. The moment to take back control of your day and soothe those nerves. To sit still and just enjoy 5 minutes of peace before everyone else takes precedence again.  
We all deserve those five minutes.  Try it out, I promise you will feel so much better!
Boozy Hazelnut Coffee Cocktail Ingredients
8 ounces of your favorite coffee, brewed
3/4 shot of Remy Martin
1 shot half and half
1 tsp hazelnut syrup
1/2 shot Frangelico (hazelnut liqueur)
Boozy Hazelnut Coffee Cocktail Directions
Combine all ingredients in a mug
Stir, and enjoy.
Happy Sipping!
MORE FUN COCKTAILS FROM MOMTRENDS
PIN IT!
For more fun recipe ideas, be sure to follow the Cocktail Chic board.
This is not a sponsored post.