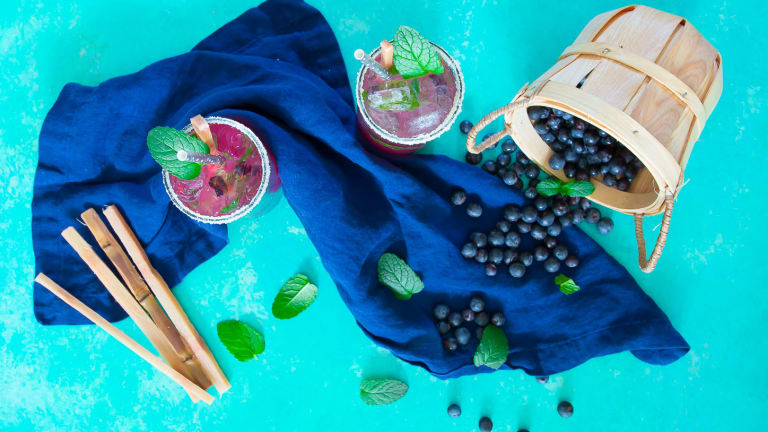 A Refreshing Blueberry Mojito Cocktail
Our refreshing Blueberry Mojito recipe is the perfect drink to get you through the hottest days of summer
Mojitos are classic Cuban drinks that are as refreshing as they are delicious. Traditionally, the recipe is a combination of lime, mint, sugar, white rum, and club soda. 
Together these ingredients combine to create a fizzy magical elixir to help you conquer the hottest days of the year with a smile on your face.  
Related: Strawberry banana daiquiri recipe
Mix up a Blueberry Mojito Cocktail
Possibly some of my favorite cocktail varieties are the many mojitos with a fruit twist.  Endless possibilities from strawberry, rhubarb, mango, and, my personal favorite, blueberry make up the vast array of mojitos with a twist.
Making a mojito is simple. In a tall glass muddle together white sugar, mint, and lime.  Add some crushed ice, rum, and club soda. That's all there is to this simple cocktail recipe.
Sounds easy, huh?
You should definitely give these crisp and refreshing drinks a chance.  These are simply perfect for pool days. Or even picnics. Did you July is National Picnic Month? I sure didn't. 
 Sounds like a great reason to have a cocktail in the sunshine.
What I love about drinks like this is that you can make one at a time or a pitcher to share.  Drinks are always best shared with friends in my opinion.
Blueberry Mojito Cocktail Ingredients
makes one cocktail
1 lime, juiced
15 blueberries
5-6  mint leaves
1 tsp granulated cane sugar
1 1/2- 2 ounces white rum 
3/4 cup crushed ice
1/2 cup club soda (top off the glass)
Blueberry Mojito Cocktail Directions
n a tall glass, combine the freshly squeezed juice of one lime, sugar, blueberries, and mint leaves. 
Muddle until well combined.  
Fill the glass with your crushed ice and then add the rum.  
Give the drink a quick stir and add the club soda.  
Stir well to combine and garnish with more mint and or blueberries. Sugar cane sticks make an excellent garnish as well. Enjoy!
Optional: Feel free to sugar the rim of the glass for an extra kick of sweetness to your drink. 
MORE SUMMER COCKTAILS  FROM MOMTRENDS
Love this recipe? Please share! You are guaranteed to love these summer cocktails too:
PIN IT!
Use Pinterest to save your favorite cocktail ideas. Be sure to follow our Drinks board here.