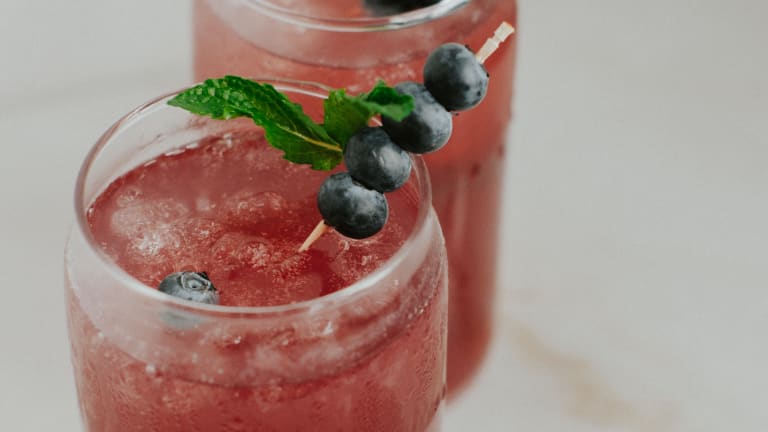 Blueberry Mint Spritzer Mocktail
Pregnancy, new baby, nursing moms…these are the days of endless patience, exhaustion, and hopefully a great deal of excitement and joy.
It's also the time when a glass of wine with your partner or treating yourself to a cocktail after a long day goes by the wayside and turns into a brief moment of confusion as you try to decide if you should have water (again) or tea?
How about if you treat yourself with a grown-up mocktail that is not only beautiful but tastes refreshing too?
This Blueberry Mint Spritzer is just the ticket – super easy so you don't have to spend a lot of time mixing and stirring and will make you feel good knowing you're serving yourself and your baby something fresh (and alcohol free!).
Serve the drink "as is" or level it up – we've included a few different options for your mixology game. You can add something simple like a garnish or maybe even add another fresh ingredient. Either way, you're going to love it.
And if you are expecting, be sure to check out our #MTBabyShower online event--we're giving away a whole collection of new-mom must-haves to one lucky winner.
Blueberry Mint Spritzer
Ingredients
● 2 oz Blueberry juice
● 1 oz Lime juice, plus wedges for garnish
● 4 oz club soda
● Fresh mint
Instructions
In a tumbler filled with ice, combine the blueberry juice, lime juice and club soda. Stir gently to combine. Garnish with a sprig of mint and a lime wedge. Enjoy!
Better: Garnish with fresh blueberries. You can either add a few berries to your glass, or skewer 4 berries on a toothpick and serve in the drink.
Best: Before you make the spritzer, muddle 2 slices cucumber with a sprig of fresh mint in your glass. Add the ice and make the recipe as instructed above. Garnish with fresh blueberries and a sprig of mint.
Want more from Momtrends?
This is not a sponsored post. Recipe post by Marnie Rae www.marnierae.com