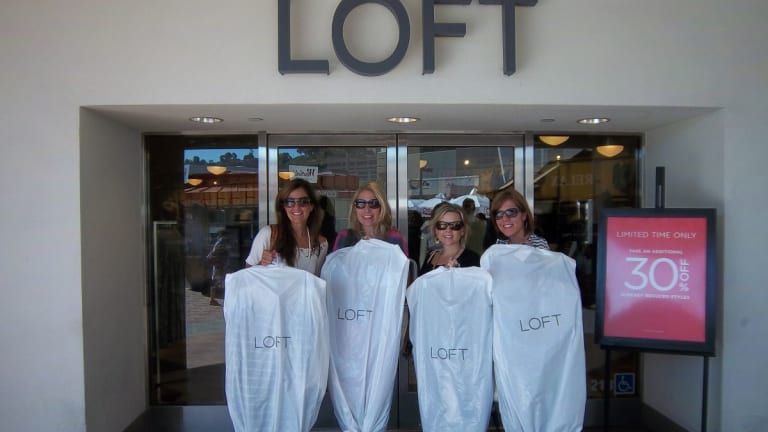 BlogHer Recap Day 1
Scenes from a blogging conference meant to help women connect online.
San Diego was home to the 2011 BlogHer conference and you know what? It's also the home to a whole lot of fashion. Some good, some bad (oh there was plenty very, very bad on display at the Hard Rock hotel Sunday Pool Party--wow made Jersey Shore look tame) and all of it fabulous to look at.
So let's get going with the highlights. I got to fly across-country with my two Momtrends besties--Brooke and Sherri. To say we bonded on this trip was an understatement. Wow--are those girls amazing.
After descending on the Hard Rock Hotel (things started out rocky there, and while I will say all the costs were wildly inflated and our first room was so very depressing and tiny--they did rally to help us execute a memorable party, but more on that later) we made a bee-line to two amazing LOFT stores.
First up: Horton Plaza. Margarett and her team were amazing as we pulled looks together for eight of the moms we were to dress in the Style Suite (they even gave us juice and cookies--like a fashion play date!).
Next Stop: Mission Valley Center. A quick trip in Andrea Fellman's Ford Flex (that car was rockin') and we rounded up the next set of outfits for our moms. Shopping with visions of outfitting and the other moms. Getting the LOFT outfits together was a blast. I got to play fashion fairy godmother--awesome.
We raced back to the hotel so I could hop on over to the Haute Green Social Hour and hear about the latest in green trends. Next up was the Clever Girls Collective Rock Star Bash (yep--that's were the Smurf blue drinks came from.) And final stop Nichelle's BlogHer Style Suite at the W. My report: These BlogHer bashes were packed with style.
Momtrends was not paid for this post.