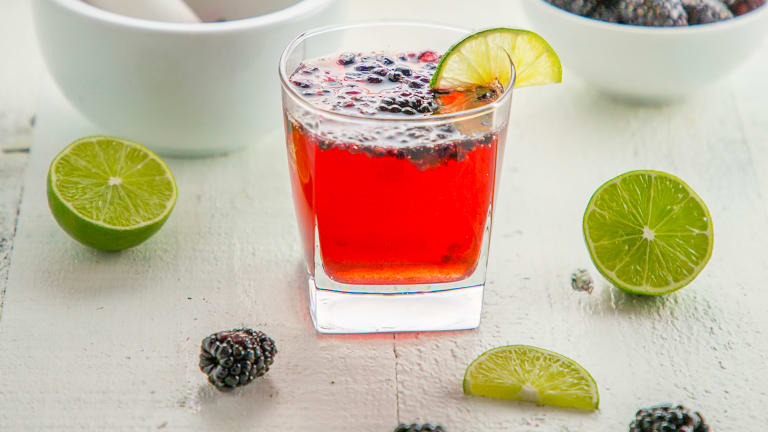 Publish date:
Blackberry Fizz Cocktail
Welcome back! We have officially made it to the weekend. I, for one, am thrilled. Not that the rest of the days this week haven't felt like the weekend. We got almost 7 inches of snow. That's quite rare here, so everything has been shut down for the most part. Lots of playing outside makes this momma crave a cozy spot next to the fire and, of course, a delicious cocktail. Lucky me, I got both! Today, I'm going to share the recipe for this delightful blackberry fizz cocktail.
My favorite part of this cocktail is its simplicity. Easy ingredients, no major hassle. After a long and exhausting day chasing three-year-old boys around in the snow (I swear they never tire), I don't need lot of ingredientsa nd work. But don't let this drink's simplicity fool you. It's still delicious and unique. 
Not a tequila fan? Don't sweat it. This tequila cocktail isn't your typical sour or uber strong tequila cocktail. The blackberry fizz is smooth and has just the right amount of sweetness. Certainly not the tequila you conjure up in your mind from college. You will not be losing earrings or anything else.
To make this delicious pink concoction combine the following in a rocks glass:

Fun Ways to Discover Venice Italy with Your Family
Greetings from Italy wear the gelato is rich, the clothes divine and the scenery is inspiring. Now that I've been to this fine city in the north of Italy, twice, I've amassed a list of favorites to share. These are some fun ways to discover Venice, Italy with your family. ...read more
Here's What No One Tells You About Olive Oil
produce is at its absolute PEAK right now. It's the time to prepare fresh veggies and fruit with ease and simplicity. When it comes to cooking, the farmer's market is my muse. As I prepare some of my summer harvest favorites, I'm sharing a little secret, what you put ON the ...read more
1 oz of tequila
5 oz IZZE sparkling blackberry
the juice of 1/2 of a lime
In a mortar and pestle muddle 1 slice of lime and 3 blackberries and add to the glass
That's it! Less than 5 minutes and you have yourself a tasty cocktail ladies 
Now, if you are wanting something warmer to cozy up to this winter be sure to check out this amazing hard apple cider cocktail or this spiked dark hot chocolate. They are sure to warm you up in a jiffy!
Happy sipping!