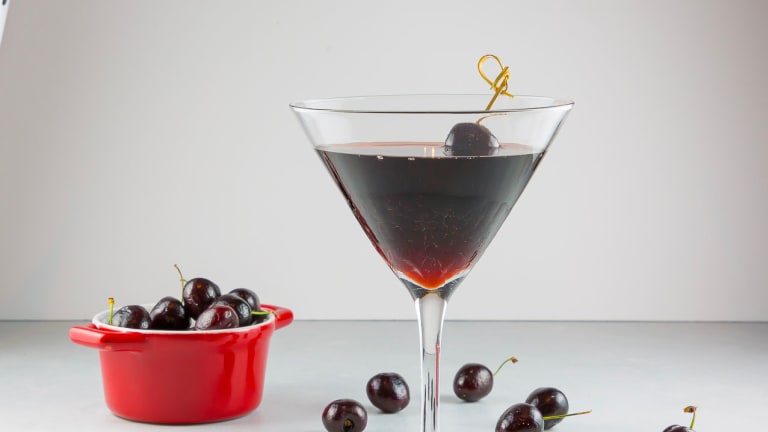 Publish date:
Black Cherry Martini
Another week, another cocktail. I decided to shake things up a bit and make a martini this week. Get the pun? Shaken, not stirred girls. Anyone else read that and hear Sean Connery's voice in their head? Sean Connery as James Bond will always be a classic, or have I just shown my age?! Oops!   
I hope you have all had a wonderful week. If you're on the east coast, I hope you have thawed out by now. In central NC, we have gone from single digits to no lie, 68 degrees this week. Mother Nature has flipped her lid this year! If you haven't thawed out yet, you definitely need this cocktail! Either way, we all made it to the weekend, and we deserve to relax and sip on something yummy.
This vodka martini is a delicious break from the hectic week. By combining vodka, black cherry juice, triple sec, and a dash of cinnamon this cocktail recipe is sure to please. The cinnamon is optional, but I think it pulls the cocktail together rather nicely.
Since we were stuck inside so much this week, I decided to play around with the photography a bit. Boy did I make a mess dropping ice cubes into this martini!  Life is messy though, right? I know mine is. But life seems more fun when it's spontaneous and messy anyways! When was the last time you tried something new? I highly recommend it! Shake things up a bit and see what happens!
To make this cocktail:
1 part black cherry juice

Here's What No One Tells You About Olive Oil
produce is at its absolute PEAK right now. It's the time to prepare fresh veggies and fruit with ease and simplicity. When it comes to cooking, the farmer's market is my muse. As I prepare some of my summer harvest favorites, I'm sharing a little secret, what you put ON the ...read more
Amazing Breastfeeding Accessories for Mom
As a breastfeeding mama I'm always on the lookout for stylish and functional accessories. Chewbeads and NuRoo offer moms products that pull double duty! Add an extra layer of style while also keeping it functional with Chewbeads necklaces and NuRoo nursing scarves. Both of ...read more
1 part vodka
splash of triple sec 
dash of cinnamon
Combine all ingredients in a shaker with ice and SHAKE! Do a little dance to if you want, it is the weekend after all! Pour into your favorite martini glass and enjoy. Feel free to garnish with whatever you wish. I like the plain cherries but to get fancy (dinner parties or cocktail hour) you could dip them in chocolate first and then skewer them. Easy upgrade and definite a wow factor ;)  Until next week....
Happy Sipping!
This is not a sponsored post.