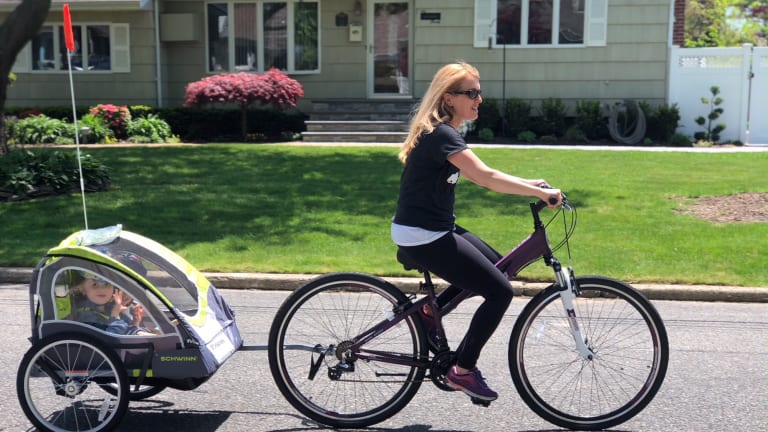 Finding the Right Bike Trailer for Biking with Kids
How riding a bike got this mama back on the road to wellness. The right bike trailer helps get the whole family on the move.
You have heard it before, busy mom of three, work part time, volunteer full time and there are never enough hours in the day. I just haven't been able to find the spare time to dedicate to my own wellness as I should. It really came down to finding the right bike trailer for biking with kids. Once we could all go together, everything changed. 
Related: Tips for running with tweens and kids
I decided to make a very dramatic change and so far I have seen nothing but positive results. I am not just speaking up about weight loss (although there's been a little bit of that!) but I am feeling stronger, better able to tackle my family's hectic-to-the-point-of-comedy schedule, as well as more focused and positive. I literally went back to basics, or as I like to call it BIKE-iscs. 
The Benefits of Biking
I have been riding my bike everywhere my feet would, could and should pedal me.  Heading to soccer practice? Yup, I am biking it. Heading to pick up garlic at the grocery store? Yup, I am biking it. Dance class with my little one? You bet, we biked.  I have been riding my youngest to preschool drop off and we are all benefitting from the fresh air, accomplished start to our morning and extra exercise. 
There has been a trickle down effect happening in our house. As soon as I hopped on my new bike, the kids eagerly take out their bikes to head to school, practice and their friend's house. We feel really good about the positive environmental impact we're having too.  
Getting Mama the Right Set of Wheels
A little bit about my latest mode of transportation... I like to call my new bike a crossover because it can handle the light trails as well as it can handle the pavement. The Schwinn GTX 3 Hybrid bike is not only gorgeous-I literally squealed when Iaid eyes on it! it is lightweight, smooth to ride and quite comfy too. I love how I have so much control over the speed and torque. Shifting the gears is simple and easy to get used to. 
The wider seat provides a more comfy and stable cushion for those longer rides. I feel in control and the bike feels manageable from the first bit of the ride to the last. It is the perfect bike to trailer a little one, run errands, ride in light trails and to use for recreation. 
The Schwinn® Women's GTX 3 Hybrid Bike provides a ride for any surface. Featuring a lightweight aluminum frame and SR Suntour Fork, the GTX 3 is nimble on the trail or street. Its 700C Schwinn® tires roll smooth on city streets. Shimano components and 7 speeds ensure efficient performance. See more specs HERE. 
The Schwinn Lumina trailer (seats two preschoolers comfortably) is perfect for those 12 months and up (weight cap is 40 LBS when using it as a single, 90 LBS when using it as a double). With the turn of a bolt it easily attaches (or detaches) from your bike enabling you to easily get ready for your little passenger. There are cup holders, a mosquito net and rain cover all included. 
There's even a little bit of extra storage room behind the seats that's perfect for snacks or a sweatshirt. The Lumina bicycle trailer makes those extra long trips easier (and safer) for the littles and is a great way to get the whole family involved in the ride.
 Features: 
Included handy stroller kit (handle and front wheel) conveniently turns trailer into a stroller for long walks or morning jogs
Be seen with the bright and innovative reflective material that's crucial for enhanced nighttime safety
Universal coupler easily attaches to almost any bicycle for added versatility one-time installation
Unique folding frame & quick-release wheels pack up neatly for compact storage & transport 16 inch air-filled tires supply a smooth ride
My little one has even taken a snooze on the way back from a day trip to the park. I guess it's comfy and cozy in the cocoon like trailer. 
Getting back on a bike has changed the whole dynamic of our family and I couldn't be happier about it. Getting back to this easy, fun and simple way of being together, getting around town and staying fit has been beneficial in so many ways. We feel reconnected, healthier and proud of the change. Here's to many more miles on two wheels!
MORE MOMTRENDS ON WHEELS
PIN IT!
Use pinterest to save your favorite finds for families. Be sure to follow our Activities to do with the kids board here.
This is not a sponsored post. Samples were received. This post may contain affiliate links. All opinions expressed are our own.