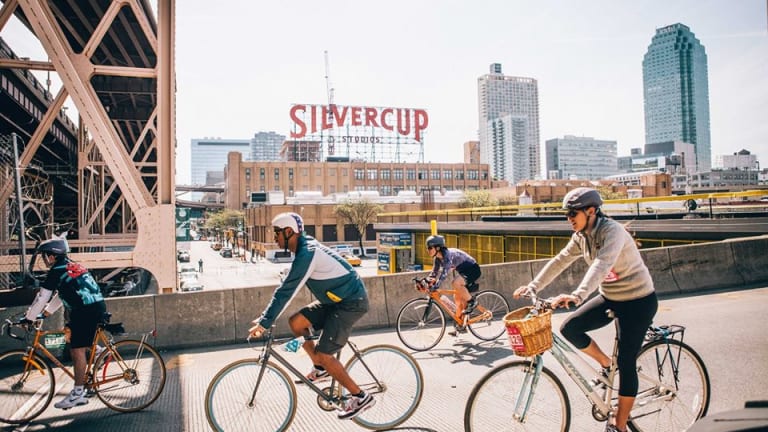 Publish date:
Bike New York Events and Community
A resource for young and old cyclists in the city to help more New Yorkers ride safely and enjoy this terrific sport.
A resource for young and old cyclists in the city to help more New Yorkers ride safely and enjoy this terrific sport.
Bike New York empowers New Yorkers to transform their lives and their communities through bicycling. The group's vision is to increase ridership, to empower youth to lead healthy, productive lives, to remove barriers to cycling, and to advocate for and expand services to reach more New Yorkers. Each year Bike New York hosts a ton of events and they continue to build and awesome community.
Related: Womens bike riding tips-for new riders
Lessons and Education
Bike New York operates the largest free bicycle education program of its kind in the world. They teach both adults and children how to ride safely. Last year more than 30,000 New Yorkers benefited from their programs and services.
Five Boro Bike Tour
The coolest ride in NYC! This family-friendly tour is 40 miles and a chance to enjoy the roads car-free. The Five Boro Bike Tour begins in Lower Manhattan, heads north through the heart of Central Park, and continues on to Harlem and the Bronx before returning south along the East River on the FDR Drive. From there, cyclists cross into Queens and then into Brooklyn, where riders take over the Brooklyn-Queens Expressway before the heart-pumping climb up—and thrilling ride down—the breathtaking Verrazano-Narrows Bridge and into the Finish Festival on Staten Island. 
New York Bike Expo
Each year the Bike New York expo brings the best of urban cycling to the city. It's the nation's largest bike expo. The expo provides a perfect opportunity for residents and visitors to take an unprecedented look at urban cycling against the backdrop of New York, meeting the demand from both retailers and consumers for a major bike expo on the east coast. BE NY is jam-packed with free programing throughout the three day event. From biking classes to bike presentations to fashion shows, you won't want to miss all of the exciting events on stage!

5 Pretty Ways To Organize Your Jewelry
I admit - I'm guilt. Despite my best efforts, my "jewelry drawer" has become a tangled mess of necklaces, bracelets and earrings. This cluttered collection not only makes it hard to see what I have, but difficult to untangle the pieces I do want to wear! This summer, I'm ...read more
This Year's Coolest Jumbo Pool Floats
Pool season is almost here! I can't wait to relax, read a book, and sip a cocktail while lazily drifting in an oversized float. (Just kidding, I have two toddlers--but a swim mama can dream, right?). If you've got a staycation planned, check out this year's coolest jumbo pool ...read more
Crystal Clear and Pristine: Pool-Cleaning Tips
Tropical Storm Isaiah gave us quite the midsummer surprise here in the suburbs of New York City. We just got our power back on after a whole week of darkness! With trees down, debris everywhere, and lots of uncertainty, one thing we forgot to check on: our above ground Intex ...read more
BE NY features more than 130 vendors, live-performances, hands-on programming, bike gear giveaways, and of course, free bicycle classes for both youth and adults - making it a great event for the whole family!
BE NY also includes exhibitors from across the bicycle community. In addition to Raleigh America, notable companies attending BE NY include Thule, Timbuk2, Primal Wear, Osprey, Viva Bicycles, Terry Bicycles, and Nutcase, among many others.
The expo is also the spot for rider packet pick-up for the 32,000 bicyclists participating in Bike New York's annual TD Five Boro Bike Tour, making it the most attended bike expo in the United States. All booth sales and additional profits from the expo will help fund Bike New York's continuing bicycle education and safety classes.
MORE MOMTRENDS ON WHEELS
PIN IT!
Use pinterest to save your favorite finds for families. Be sure to follow our Activities to do with the kids board here.
Momtrends was not paid for this post