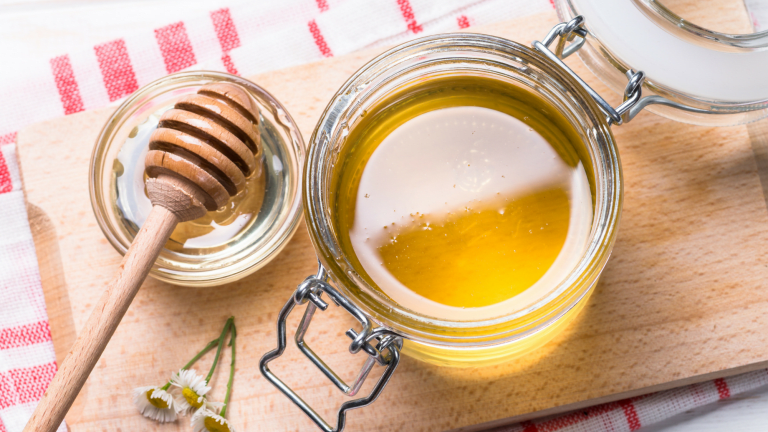 Best Uses for Honey
More than just a tea sweetener!
We recently went to the Liberty Science Center and enjoyed so many of the different exhibits, and couldn't help but notice the focus on bees and their importance.  We learned about bee keeping and what it really takes to produce honey. It is quite a labor intensive process and is definitely a labor of love. One of my favorite college professors was a bee keeper and shared with us all the wonderful uses of honey and its benefits. Did you know that there are so many uses for honey other than using it as a sweetener? We shared ways to cook with honey and now we are sharing the best uses for honey besides in the kitchen. Just as a tip, we recommend local, fresh, unprocessed honey. Your local farmers' market, street fair or natural foods store should be a good place to find it.
Sore Throat: I suffer from a chronic sore throat due to allergies and post nasal drip. I soothe my sore throat with 2 teaspoons of raw honey to get the long lasting relief I need.  Try "taking it straight" as to use the honey in its most effective form.
Wounds: It may come as a big surprise but we use honey on minor cuts, burns, scrapes and other boo-boos. A little dab on the area and let the healing begin. Honey is naturally antimicrobial, anti fungal so it keeps the wound clean and allows your bod to heal itself. 
Allergies: Local honey is a great assistant to those with allergies. Local doesn't have to be hyperlocal-up to 50 -60 miles radius is recommended. Consult with your physician as those with a great number of allergies, need to consume a "dose" of honey that is right for them without being overwhelming to the immune system.
Diabetes: For diabetics, honey has a lower glycemic index than sugar which may be a more effective way to keep blood sugar levels more stabilized. It is also sweeter than sugar, so we tend to use less of it when cooking, baking and using it as a general sweetener.
Skin Irritations: A soothing compress of warm water and honey calms, soothes and relieves red, irritated and itchy skin. 
Beauty: Honey is great for the skin as well. I tried products from Beeline Skin Care and love their natural lip soother. 
Honey is also known to have antioxidant properties, can help with healing and soothing hemorrhoids, and even ulcers.
How will you incorporate this natural wonder into your wellness routine?
This is not a sponsored post. All opinions expressed are our own.