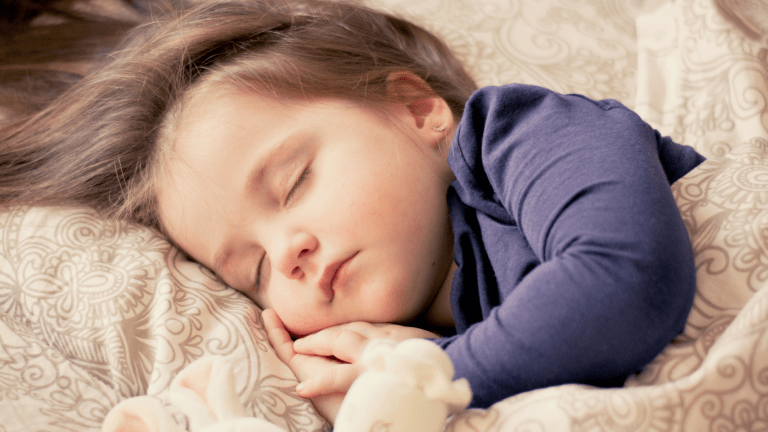 Tips for Getting Kids to Sleep
Helpful Hints to catch some ZZZ's
The most elusive notion to most parents is the concept of a good night's rest. Left on our own, we would probably get a glorious eight hours of sleep on the regular, but when there are little people involved, the idea of sleeping is nothing but a pipe dream.
When we became parents, we obsessed about getting our first born on a sleep schedule and had learned (and subscribed to) the philosophy that "sleep begets sleep." We worked hard to teach our children how to sleep and have been reaping the benefits of a good night's sleep ever since. 
So what are our top three tips for getting kids to sleep?
1. Be Consistent: Whatever routine you pick, stick with it. Put a lot of thought into how your child will sleep. Will they get a bath before bedtime? (We choose to do this right after dinner instead of right before bed because it was too stimulating for our youngest.) A bottle? Will you rock them? Are you choosing to co-sleep? There are no right ways, but there are ways that work best for your family, find it, and stick with it. We loved and highly recommend the book, The Baby Whisperer.  As with any guide book, we took the advice and tailored it to meet our baby's needs. We did find it to offer the best overall advice and appreciated the author's bit of snark. 

2. Create the Space: We chose a beautiful rug from Lorena Canals to create a cozy space for us to curl up and read a good night story. We love the rug because it is washable and has low-pile which is great for quick vacuums and toy-playing. Lorena Canals offers a variety of rugs in several sizes to suit your needs. We love the modern designs, and the on-trend patterns and choices to seamlessly match any home design. (Check out the site because right now there is an amazing sale!) Even when the children were very young, we kept most toys and playthings stored away in a closet or in the play area. We wanted their bedrooms to say, "I am for resting, sleeping and recharging."  Sleep isn't a punishment, it is a chance to give every day your best. 
3. Go Green: We invested a lot of time, money and energy towards making sure the children's rooms were as toxin free as possible.  Everything from the paint, to the furniture to the toys were green. Our biggest investment was the mattress.  We spend so much time (or that's the plan!) in our beds, we wanted everything about their beds to be organic, chemical free and natural. We also wanted a quality comfortable mattress.  We gave Bundle of Dreams® mattresses a try and are in love.  Bundle of Dreams® mattresses consist of the company's revolutionary Bundle Fiber™, instead of standard foam core. Foam is produced from petroleum products and chemicals, which have been shown to cause pulmonary and respiratory problems. Unlike foam, which emits VOC's and is often made with chemical flame retardants, Bundle Fiber™ is derived from quality controlled, recycled water bottles. This innovative process yields three dimensional fiber orientations, creating a highly resilient core that provides comfort and support by dissipating heat and moisture throughout the sleep cycle. The organic surface is eco-friendly, water repellent, and easily washable.  Perfect for anybody looking for a healthy long night's rest. 
This is not a sponsored post. Some samples were received.