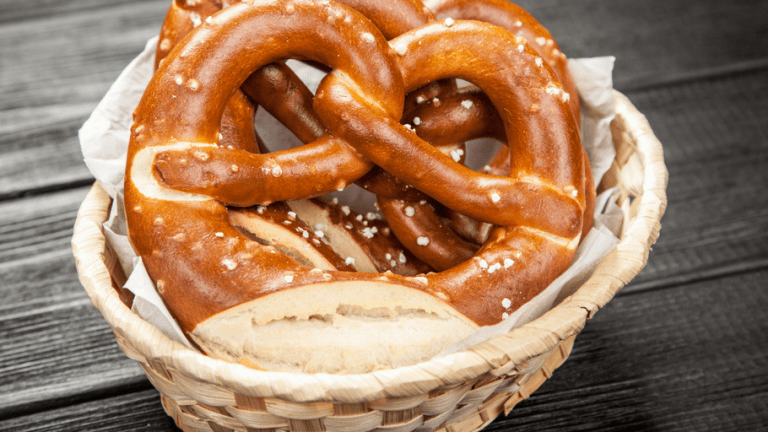 Best Pretzel Recipes
Preztel Lovers Baking Favorites
I love a good salty savory snack. Pretzels are my favorite way to crunch away hunger pangs. I do love my Pretzel Crisps, but I also love baking my own. We've written about pretzels a lot over the years and are rounding up our best pretzel recipes.
Related: Celebrate Oktoberfest Party with Home Brewed Beer. 
Cheesy Pretzels with Dipping Sauce
Soft Pretzels with Marinara Dipping Sauce: This recipe is ready in  15 minutes and a warm way to devour some prezels.
Caraway Soft Pretzel Recipe
Click here for this savory treat that is 100% sophisticated. This is a fun party food for grown-up and pairs really well with beer. I think it's ideal for fall, but why not try it in the summer too!
Soft Pretzels with Dip
5 Minutes for Mom is one of our go-to resources for kid-friendly recipes. These homemade soft pretzels with dip might just be the most delicious you make this month. Pair them with the tasty honey mustard pretzel dip recipe. Get the recipe here   www.5minutesformom.com/126247/homemade-soft-pretzels-with-honey-mustard-dip/
Cake Pop with Pretzels
If you are looking for something sweet and savory, this cake pop recipe is a crowd pleaser. Whip these up for a birthday celebration as an alternative to cupcakes or ice cream.
Chocolate Dipped Pretzels
I love going to events to get cooking ideas.  I learned how to make these sweet treats at a Stop & Shop holiday baking event. It's a fun afternoon activity with older kids and a wonderful Christmas treat for entertaining.

You'll Need:

Pretzel rods
Bags of semi-sweet chocolate chips (try mixing it up and doing one white chocolate and one dark)
Toppings!
The toppings are the best part. We tried smashed candy canes, sprinkles, oreos, mini m & m's and coconut. Use your imagination!
Directions:
Melt chocolate in a double boiler (the bottom portion has water, the top the chocolate). Stir gently until heated through and chocolate is a consistent temp. Dip rods into chocolate and spin to coat the top of the rod. Place on a cookie sheet lines with wax paper. Sprinkle on the toppings (hurry! you want to do this before the chocolate dries). Enjoy!
Pretzel Bread
This easy recipe from JustaTaste.com is a good one for the Super Bowl or any game day parties.
Cinnamon Sugar Pretzels
Salty and sweet- we love that combo. This Cinnamon Sugar Pretzel recipe from Tammilee Tips is a crowd pleaser. 
Gluten Free Pretzel Kiss
You can tweak this recipe to just about any holiday (just change the colors of the treats on top). Head to Classymommy.com for the step by step instructions
Pin it and Try it! 
Use this pin to bookmark all these tasty recipes. Let us know if you try any!
MORE FROM MOMTRENDS
PIN IT!
Use Pinterest to save your favorite recipes ideas. Be sure to follow our Recipes to Inspire Board here.