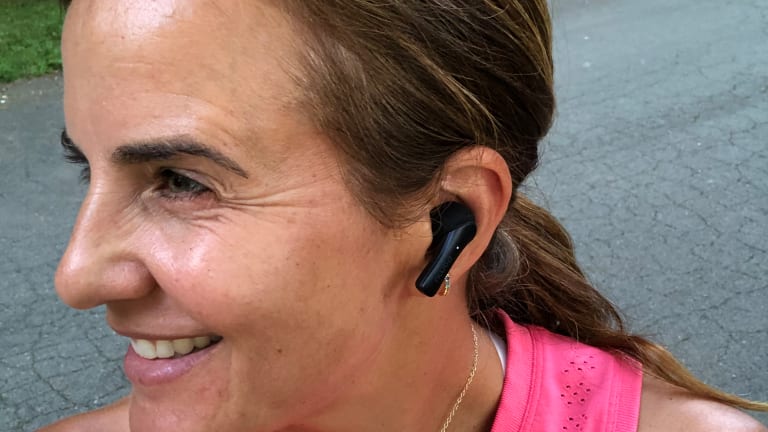 Best Mini Bluetooth Headphones Under $50
Mom review: Pamu headphones by Padmate offer excellent sound and battery life at a great price.
I don't know about you, but I'm not nearly responsible enough own $250 apple AirPods. Sure they are cute and give great sound, but I can get almost the same quality and save $200 with Pamu headphones by Padmate. These are the best mini bluetooth headphones under $50 that you can find. 
Related: The best option in virtual babysitting
Best Mini Bluetooth Headphones Under $50
I have a lot on my plate right now. Keeping track of little things is not my strong suit at the moment. That's why I invest in things that keep me moving forward. The Oventure key chain is a great example. I never lose my keys thanks to this awesome design.  Another awesome design is the Pamu mini slide headphones. Sure, my kids my care about having the apple logo on their stuff, I just need things that work and that are relatively easy and inexpensive to replace when I inevitably lose them.
PaMu Slide Mini Bluetooth Earphone 
These new PaMu wireless earphones just launched and are currently priced at $49.99. They are compact and fit well in my ear even when I'm on a run. Like most bluetooth technology, these are super easy to pair with your phone or laptop. No tech support required. 
For $50 you get great features like up to 30 hours of playback time and touch controls. They are even water resistant.  I'm getting about 10 hours of talking time from a single charge.
The wireless headphones charge quickly in their small charging case and they can charge wirelessly. They come with 12 ear tips (6 pairs in different sizes) to customize your fit.
One drawback: They require either a wireless charger or a type-c charging cable. Currently, I have neither as I lost my only type-c (you see how I am). It's a slightly different charger than the one used for an iPhone or most other small portable devices. Sigh.
Here's the thing, I'm not an audiophile. I like music and I like my podcasts to be clear, but I'm not terribly fussy. I am concerned about price. Padmate can make these quality headphones at a good price because they own the factory. I save hundreds of dollars and get the sound and battery life I need. 
The PaMu Slide wireless earphones are available in 4 colors. Get the headphones here padmate-tech.com/products/pamu-slide-mini.
MORE TECH ACCESSORIES FROM MOMTRENDS
PIN IT!
Use Pinterest to save your favorite tech finds. Be sure to follow our Mom Boss board here.
Momtrends was not paid for this post