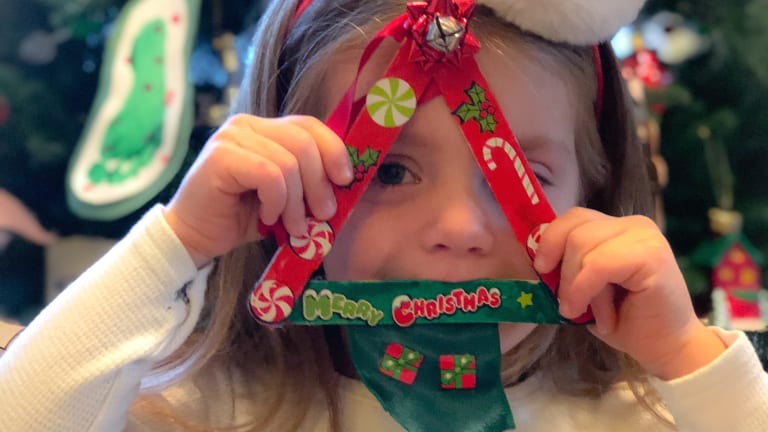 Publish date:
Holiday Crafts for the Whole Family
Get Your Craft On!
I remember when I was a child asking my parents what they wanted for Christmas and they responded in full earnest that watching us enjoy the holidays was a gift in of in itself.  My parents always took time to slow down during the holidays and embraced the spirit of the season.  As my own children are growing up, I reflect on my favorite Christmas moments and they have nothing to do with presents and bows but everything to do with handmade ornaments, cookie baking and off-key caroling. To help you make those special memories, we have rounded up some of our favorite holiday crafts. Get your glue gun (and camera) ready and know you'll be making so much more than crafts.
Craft Stick Picture Frame: We make these every year and kids of any age enjoy it. I simply lay out large craft sticks, and a bevy of fabric scraps, buttons, stickers, mini bells, beads, seasonal flowers and ribbon. Either construct a triangle or square using the sticks and then let your imagination do the rest. I love looking at the frames of years past to see their creative process and crafting progress. 
Handprints, footprints, oh my!: I could have a whole Christmas tree decorated with handprints and footprints, I just can't resist. I am excited to make this easy Rudolph craft with the kiddos. My skills are limited so I rely on the sweetness of those little digits to carry the craft to perfection. I am also itching to make these Grinch crafts as we watch and read one of our holiday favorites. 
DIY snow globes: My middle child has always had an eye of snow globes and collects them wherever we go. I am going to surprise her with a DIY snow globe party with a few of her closet friends. Country Living rounded up a few and THESE are sure holiday winners. 
Homemade Ornaments: Using felt, or salt dough to create ornaments that will tug at your heart strings for years to come is always fun. We stepped up our game a bit and used red and white (or green and white if you can find them!) starlight peppermint candies and cookie cutters to make beautiful ornaments that are elegant, whimsical and oh so easy to make!
Paper Crafts: Put those scraps of paper to good use! With a little guidance and inspirational ideas, you can let the kids have at it. These reindeer are too cute and would look adorable accompanying a few DIY Christmas trees. 
On trend Crafts: For DIY nutcrackers, Grinch and Polar Express we are giving these a whirl. 
Still have shopping to do? We have the best gifts for kids, moms, grandparents, tweens and teens as well as top STEAM gifts and books of the season. Take time to enjoy the merry! Happy Holidays!
This is not a sponsored post.