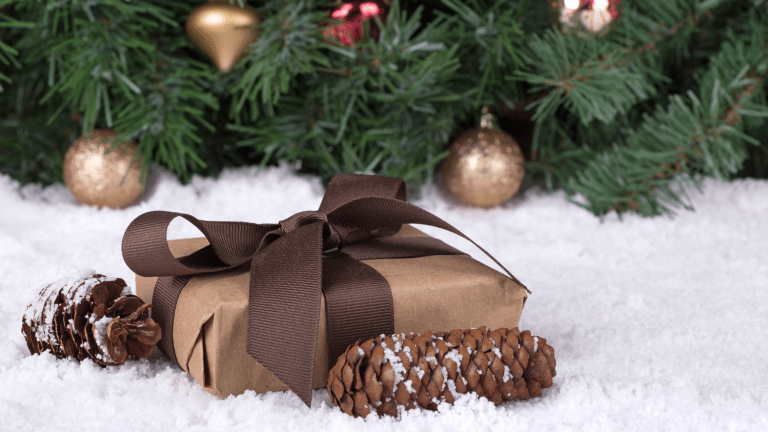 Gift Guide: Best Gifts for Mom
Wow the special women on your gift list, ideas for the women in your life who give so much all year long.
Things are really getting festive around here as we kick off the holiday season with our Holiday Gift Guides. We're starting with moms. In so many families, moms are the glue that keep the family together. We're the keepers of traditions and the ones who spend so much energy trying to make holiday magic. We are taking all the fuss out of holiday gifting with our easy-to -shop clickable holiday gift guide. 
Gift Guide: Best Gifts for Mom
Whether you are shopping for your bestie mom friends, or passing this guide along to a partner, or maybe even treating yourself, we think this guide is full of inspiration.
1. Classic Camel Coat: The cabi double-breasted Heritage Coat comes in a stunning camel hue with a checkered lining, making it an heirloom piece you'll want to hold on to for years to come. It features a vegan leather contrast on welt pockets, bound buttonholes, and a back collar. Peek inside to find an adorable print lining. This coat is classic and timeless (also makes a great gift for recent college grads!). Not just for dressed up looks—wear it with a jogger and tennies for an out-and-about look. Shop the coat at cabionline.com here. ($250)
2. Personalized Ornaments: A Christmas tree is like a scrap book, but better. It's a way to show off cherished memories and ornaments are the perfect way to capture a moment in time. Remember all the GOOD of this year with a custom woodcut ornament from Mabel's Labels. These ornaments will give a rustic look to your 2021 holiday décor. Add personalization to the whimsical laser-cut design, making these ornaments the perfect gift or unique addition to your own holiday. The earthy neutrals blend effortlessly into any holiday style. Shop for personalized ornaments at mabelslabels.com (Price: $15.99)
3. Personalize Locket: This holiday build a personalized sterling silver locket. Pictures on Gold has perfected a unique process--it's so easy to design the locket, and there are step-by-step instructions given along the way. The photo locket makes a unique holiday gift for that someone special. Begin by choosing clip art to customize the front side of the locket, then add your choice of special photos to the right and left inside frames, and finally add a personal message to be engraved on the reverse side. All of this is done in real time, and can be done on both Desktop & Mobile devices. Shop PicturesOnGold.com to build a personalized sterling silver locket.($162)
Use Discount Code HOLIDAY10 for a 10% discount.
4. World Map Decor: Update an office, creative nook or library with a giant wall-sized removable wallpaper map mural. It's perfect for moms who love to travel and daydream about the next getaway. The mural is made with repositionable adhesive wallcovering fabric or pre-pasted wallpaper. Countries are featured in a wide array of bright contrasting color tones. A very stylish color theme with teal oceans. The map features over 4,000 place name labels that have been positioned meticulously and artistically. Eye-popping 3-D rendered shaded relief clearly defines terrain. A wide range of geographic information identifies cultural and physical features making it a learning tool. The map is presented in a Miller Projection and all political data is up-to-date for 2020. Shop www.worldmapsonline.com ($90.95)
5. Fireplace Matches: Set the perfect mood for a cozy night IN with a roaring fire. These fireplace matches live in a hand blown glass cloche container with removable cork stopper in bottom. Cloche dimensions are 11.5" tall by 3.5" in diameter. Approximately 120 8-inch matches included. Features a Strike-on-Bottle flint for easy lighting. Shop Skeem Matches here (4 colors, $60 each) (note this is an Amazon Affiliate Link)
6. Fellow Stagg Gooseneck Electric Kettle: This is complete eye candy for your kitchen. It's the prettiest electric kettle we've ever laid eyes on. Stagg EKG's sleek pointed spout is designed for a powerful but precise stream for the optimal pour over flow rate, and the counterbalanced handle provides a sturdy grip encouraging a slower pour. And you can speed up your brewing process with its 1200 watt quick-heating element for boiling water. Shop for the Stagg Kettle here (6 colors, $229 each) (note this is an Amazon Affiliate Link)

7. Immune Therapy Gift Set: After a hectic year, a little self care sounds wonderful. For the Biome helps supports a wiser immune system and is designed to nourish the full expanse of your body and mind. These infusions are designed to give mom  a more precise and balanced immune response. All three products are powerful alone, but when used together, they effectively train and prepare your system to take on any challenge. Shop forthebiome.com/products/immune-therapy-collection ($86.85)
8. Rectangle Name Necklace: Vintage Pearl began in 2007 as a creative outlet for a stay-at-home mom, Erin Edwards. Raising four young children, Erin had a passion to for creating hand-made jewelry pieces that told a unique story. The Rectangle Names With Love Necklace is our popular neckpiece for moms, grandmas and your BFF's. Sterling silver 1 1/4″ rectangle charms are handstamped with any names, words or dates in your choice of any font. A cute silver or bronze 1/2″ heart charm hangs alongside, so sweet! Order your custom rectangle necklace from Vintage Pearl here. ($74.99)
9. Accomplice Wines: Meet Accomplice, a knockout line of one-of-a-kind wines that are as approachable as they are bold. This collection of premium California wines hail from the #IMOMSOHARD comedians and longtime mom friends, Kristin Hensley and Jen Smedley. TThe pair's serious obsession with wine led them to yet another crazy idea—dreaming up a wine of their own. In cahoots with Paso Robles winemaker Marty Spate, they've created an unapologetic Cabernet Sauvignon, a kick-ass Rosé, and super-buttery Chardonnay. Made from a blend of California grapes grown a couple hours up the road from their SoCal digs, these easy-to-love wines are the perfect sidekick for whatever adventures unfold. Get the Accomplicewine.com Pack of 3 here: A trio of our favorite three partners-in-crime - Accomplice Cabernet Sauvignon, Rosé, and Chardonnay. ($45)
10. Coziest Slippers: Welcome home! That's the feeling every time you slip on these. The Pabooj slipper is made with tan colored cowhide suede and lined on the interior with sheepskin fur for a soft and plush feel. Each shoe is designed with a memory foam arch insole for support.  The lining of each slipper is also finished by hand with a deep brown embroidered trim. Nowadays comfort rules--feel free to wear this outside, but we love having a dedicated indoor shoe too. Shop pabooj.com here ($97)
Wall Organizer: You'll go mad for The Megan home command center. The layout that's both functional and visually appealing--perfect for a mom who loves staying organized in style. It's ideal for an office environment or kitchen area, the Megan offers multiple list areas, a monthly calendar, two bulletin boards, a wall pocket, buckets, and hooks to help you live your best life. Get the Megan Wall Organizer on 1Thrive.com here ($199)
Win it!
Our Generous Sponsors have teamed up for an incredible giftaway just for moms. Use Rafflecopter to enter. One winner will receive: 
cabi Camel coat ($250 value)
Pictures on Gold personalized Sterling Silver 2-Picture Heart Locket ($162.90 value)
For The Biome Immune Therapy Set ($86.85 value)
Mabel's Labels custom rustic wooden ornament ($15.99)
Teal world map ($90.95)
Accomplice Wines Gift Card ($50)
Custom Rectangle Necklace from Vintage Pearl ($74.99)
More Holiday Gift Guides from Momtrends
This is a sponsored post.