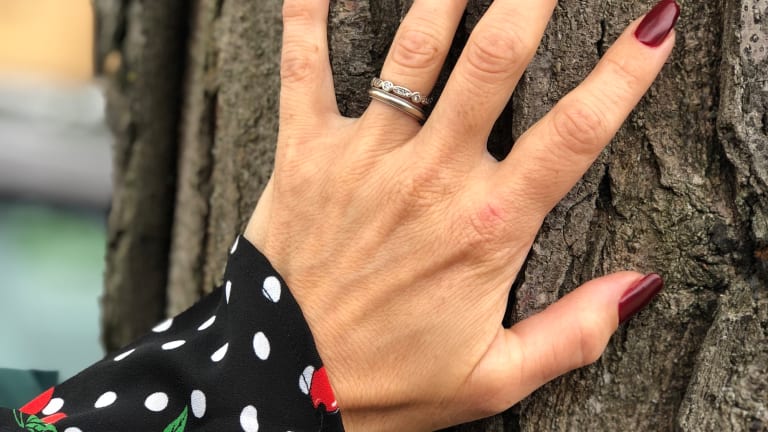 Nail Trends: Long-Lasting Mani
Best Gel Manicures for Moms
One of my closest friends tells a funny story about how we became friends and as silly as it is, I laugh every time because there's so much truth in it.  I have always had a thing for nails. I like my hands to be pretty. Maybe because I was a former nail biter (mom got me to kick that habit cold turkey in my early teens!) or maybe because I am a very expressive speaker and can seemingly only communicate if my hands are moving as fast as my lips.  But, I digress. My friend claims that in college I had a different color nail polish every day for the first month of freshman year and she just had to know where I found the time before our 8 AM Italian seminar. (I wish I could visit my 18 year old self and ask her myself!). What can I say, finding the perfect long lasting mani was years in the making.
In the effort to have my ten digits looking their best, I grew accustomed to my weekly manicures. I loved how my nails looked for the first two days, and then the glory would fade away and chip by chip, my nails would lose their lovely. After I became a mama, my weekly mani went by the waste side as I couldn't find the time and felt like my manicure didn't even last to the day's end.  I then discovered the gel manicure but disliked the UV light used and found the chemical odor offensive. 
How I have finally have the long-lasting mani!
But, ladies, no more! My nails are back in action. I get a gentle gel manicure. No odor, no more masks, no more chips and no more UV light. The formula uses LED light to dry the polish and my manicure lasts a solid three weeks and only needs to be changed because of the obvious growth at the cuticle line. My nails are as strong as ever (I'm giving some credit to the recent boost of collagen to my beauty routine) they make me feel put together even on my most ragged of days. 
I love that with a little buffing, and rubbing alcohol I can remove the polish if need be. I love that my manicurist isn't breathing in toxic fumes for hours on end, I'm not exposed to harmful VOCs and that my hands aren't exposed to additional  UV light and THE BIG BONUS? I love that my mani lasts and lasts.
I have tried the O'Nine brand (specifically PureGel AR series gel polish) and I highly recommend it. There's a wide array of colors (always ones on trend) and its color you can feel good about. Say goodbye to nail damage and harmful odors (no acetone, or DBP, TPHP-free) and it is proudly made in the USA. 
If you're looking for the ultimate long-lasting gel, less harmful, safer manicure, then O'Nine line is for you. 
This is not a sponsored post.