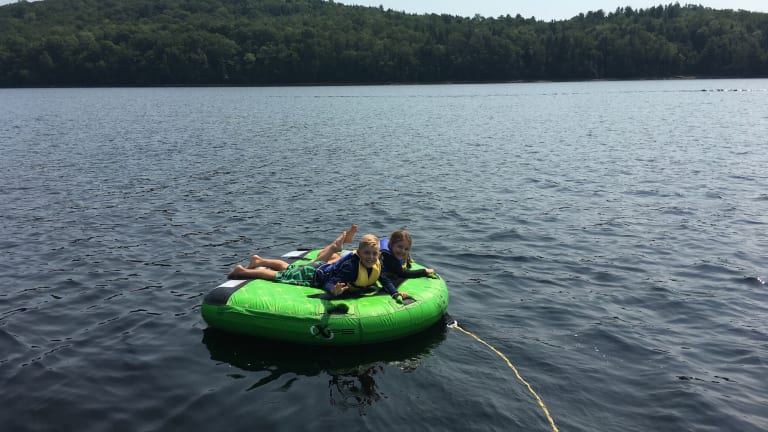 Visit Mount Snow Family Camp
Plan your summer (yes, summer!) family vacation now
We know you are trying to cram all of your work into this short week; clean, prepare, bake and organize and make way for overnight visitors. The light at the end of the tunnel is that soon enough you will be gathered with those you love most and will have time to eat, drink and be merry.  
We know most of you are planning your winter escapes and when you think of Mount Snow, Vermont, you definitely think snow-capped mountains and winter sports. Ready for something new? Mount Snow is the perfect family getaway during the summer months as well! Kind of a surprise, right? We Know! Now is the ideal time (when everyone is face to face!) to plan that summer family getaway.
We visited Mount Snow Family Camp in Vermont this summer as a family of five and the feeling I had when we left can only be described as pure bliss. I took one look at the love, peace and state of relaxation on all of our faces and was tempted to pack my bags and make it my permanent residence.
We had never attended a family camp in the past and hadn't considered doing so before our visit to Mount Snow's Family Camp.  My number one reason for recommending Family Camp? The actual family togetherness factor. The best part? I did not have to plan a thing. Whether we wanted our days to be packed full or take some time to explore, Family Camp at Mount Snow was not only a picturesque backdrop for any family vacation, but offered just the right level of chill this family needed.
At first glance, I felt the old familiar stress of trying to organize our time: When would we eat? When did the boat trip start? What time was the off-site excursion? I fell into my old habits of needing to be on a strict (can we say Type-A?) schedule and constantly being connected to a timeline. It took ONE mealtime with the Camp Staff (big shout-out to Melissa and Caroline!) to make me see the whole point of the culture they have cultivated at Mount Snow. You bring your family to Mount Snow because you get to enjoy your family in a low-key environment that is comfortably stimulating, warm and welcoming and not short on adventure.

We cannot emphasize enough just how lovely the staff at Mount Snow's Family Camp were in meeting our needs, making us feel like we were at home and extending themselves in a selfless, genuine manner. The meals were prepared for us (served family style) and any and every dietary need was met with ease.  We enjoyed the variety of foods, and options available and that we could try various tastes at every meal.  Again, the staff went above and beyond at every turn to make us feel like part of their Mount Snow family.  It is obvious they care deeply about Family Camp and one another.  Their dedication and investment to Family Camp is about the much-needed time connecting, sharing and being part of a community that binds, grounds and refreshes the very beings that we are.  They were part of the action, offered a myriad of suggestions to help guide us, and seamlessly gauged when to get involved or when to step away in order for us to have our best family experience.
Our days were filled with a bevy of activities. Everything from an aqua class, to free swim in the outdoor pools (mountain side!) to down-hill bike riding to family hikes and s'mores around a nightly fire. We took boat rides with family tubing, kayaking, and canoeing and spent a day off-site shopping the nearby outlets, and taking in a local watering hole (literally!) complete with cliffs that were begging the children to jump from (which, much to our surprise, they did-repeatedly!).
Mount Snow Family Camp enabled us to have an active, family oriented-UNPLUGGED vacation that fueled us for months.  It was the perfect way for us to end our summer vacation. We decompressed, met new friends, laughed a lot, tried new things and every one of us felt fulfilled and like we were able to do all the things on our individual "must-try" lists.  Mount Snow's Family Camp is focused on family togetherness through adventure. Time spent talking, playing simple games like scavenger hunts, pink pong and tetherball. 
Another piece that makes Family Camp so appealing (especially for larger families or those with children in various age groups) is that there is always a staff member on hand to facilitate arts and crafts and other activities in case older children or adults want to separate and try a different activity. 
We came home from our time at Mount Snow's family camp and reflected that it had been one of our favorite family vacations and we couldn't wait to go back next summer.  Happy Thanksgiving and get on your Family Camp planning to Mount Snow!
This is not a sponsored post. We were hosted by Mount Snow's Family Camp and provided accommodations.