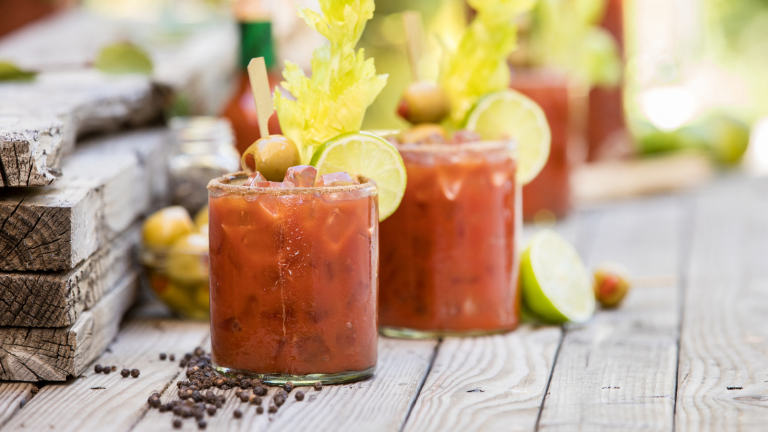 Best Bloody Mary Drink Ideas
Four unexpected ways to enjoy the classic brunch drink, the bloody Mary.
Happy new year! Who's excited to welcome another beautiful year? We sure are! And what better way to celebrate than a little cheers action with our loved ones? Being that it's officially Bloody Mary Day, I thought I would round up some of our favorite Bloody Mary drink ideas in case you too are in a celebratory mood. If you dig tomato juice...I'm willing to bet you're going to want to try ALL of these. And the best thing about a good Bloody Mary, or any tomato based drink, is that they taste great no matter what time of day it is!
Related: Pomegranate mimosa
Thai Inspired Bloody Mary
Replace classic the horseradish and tobasco with a Thai green hot sauce and you've got a spicy take on this classic drink. 
Bloody Mary Bar
Now this is obviously something you can do all on your own. You certainly don't need a party. Simply whip up a batch of Bloody Mar mix, pick up your favorite New York style bagels (my favorite) and serve them to your honey. BUT this is also a fabulous idea for a party! I know my girls would certainly love a nice Bloody Mary filled brunch. Yours would too right?!? Head here to check out our Bagels and Bloody Mary Bar.
And be sure to check out this list of garnishes from Fix.com for the completely unexpected!
Make it a Michelada
If you don't want to do go to the trouble of whipping up an actual Bloody Mary, a Michelada is a great alternative as it requires very few ingredients. We whipped up our own with a favorite craft beer and we're also loving the fun twist that Sweet Sunny Days came up with...a Key Lime Michelada!
Skip the Vodka
Now the traditional Bloody Mary recipe calls for vodka, but we're loving how you can swap tequila for vodka in their Tomato Tequila Cocktail. This would definitely be a fun one to put on the brunch menu no? Or am I the only one forever collecting brunch ideas? I mean this girl loves her some brunch. Haha!
MORE FUN SIPPING IDEAS FROM MOMTRENDS
PIN IT!
Looking for more entertaining ideas? Check out the Momtrends' Wine Time on Pinterest!
So, now that you have some proper inspiration, go forth and play bartender! There are drinks to be made!