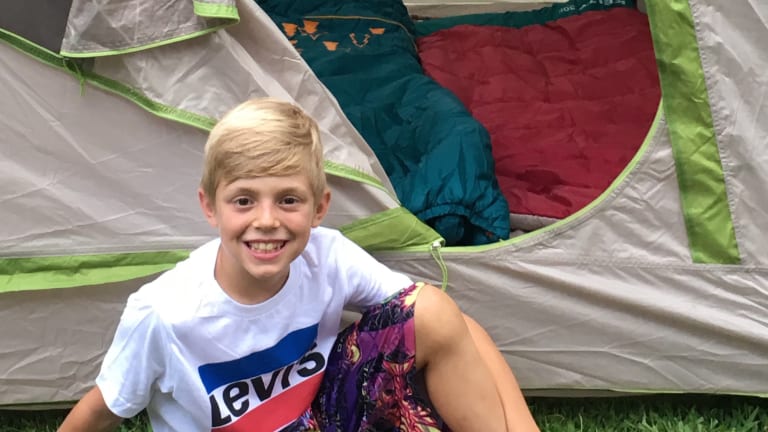 Beginner Camping Tips
How to survive the great outdoors with your family and make some travel memories on a family camping trip.
We are embarking on our first camping trip as a family of five and I am still trying to convince myself that the girl who used to love to camp is still inside me and that she hasn't traded in her sleeping bag just yet.  
Related: 6 Stay Healthy Summer Travel Tips
Although I have camped numerous times, this is my first time at the camping rodeo as a mama.  We will be boating to a small community on the Fire Island seashore and setting up camp for a few days. If you're thinking of camping with your family, my vote is a strong one for just doing it. I do have some beginner camping tips to make sure you'll enjoy yourself and relax enough to take in the natural world and all its wonder. 
Plan: My first tip is to plan ahead. You cannot throw together a camping trip last minute and hope it works out. My best advice is to plan a short stay (no more than 3 nights) somewhere relatively local to you, or at least a place that is familiar and comfortable.  No need to go off the grid your first time, like everything, camping gets better with practice. (Top tip? make sure you practice putting up the tent at least once before you head out!) 
Beginner Camping Packing List
Make a List (& girl, check it twice!): You will want to make a list of everything you need while you're camping. Of course, you will need to consider where you are camping.  Are there facilities available? If so, what kind? With electricity, or without? I try to pack in order of my stay and think about what I will need for each part of my day and go from there. Think role playing and you'll be off to a good start.  Some of my must-haves include a mini med kit, bug repellant, sunscreen, flip flops, hat, crank radio, crank flashlight, headlamps (one for each member camping) and a deck of cards. I also love having these compact towels as they absorb a lot and dry just as quickly. 
Beginner Camping Gear to Pack
If you're going to camp, make sure you have camping gear. We rely on the real deal from Kelty and have never been disappointed. Our Kelty backpack carrier is perfect for serious hikes where little legs give out at the midway point. We have been excited to try out the Kelty Camp Cabin beyond our backyard. It is roomy enough for all of us and has plenty of standing room as well. The design allows for good air circulation and keeps us cool yet protected and it was super easy to assemble (youtube not required!) and although it is still very much summer here, the beach air will be chilly.
We can't wait for a good dose of night swimming before we tuck into our Kelty sleeping bags. The Big Dipper 30 is perfect for my growing son as it "grows" (up to 12 more inches!) as he does! and for my daughter the more traditional, rectangular sleeping bag, Callisto, provides great all-around comfort  & protection.
Begging Camping Tips Meal Planning
Meals: Think convenient, easy to pack and satisfying. Our plan is to make three "one-dish" meals and freeze them and heat them in a skillet over a fire. Our freezable, portable food bags from PackIt Freezable will help keep our food cold.  You freeze the whole bag and viola' the next day, place your cold food in it and you'll be amazed that it stays cool all day (even on a very warm day!) 
Oatmeal with dried fruit for breakfast, yogurt with granola and fresh fruit and veggies for lunch. I will pack plenty of water, as well as grab-and-go snacks. We are taking our snacking up a notch with the flavorful gourmet varieties of Blue Diamond Almonds. You have to try the Rosemary and Sea Salt, YUMMY!  Plus, don't forget to pack the essentials, you know, like coffee and more coffee. 
We are digging the True Iced Espresso from Peet's. Don't forget utensils, wipes, and napkins. We will try to create as little waste as possible and essentials like take-along snack bags from Lunchskins help keep portions in check and our food clean.  I love that you can reuse them hundreds of times-think of all the plastic you're keeping out of the ocean! 
For more practical tips, check out a few more tips from the experts. (and if you're camping with a toddler, you need to read THIS.) With a little prep, your outdoors adventure will be the perfect time to relax, unwind, restart your engine and really immerse yourself in the natural world. It is one of the best ways to reconnect with your family, Enjoy! 
WANT MORE FROM MOMTRENDS?
PIN IT!
Use Pinterest to save your favorite family travel destinations to help inspire your next trip. Be sure to follow our Travel with Kids board here.
This is not a sponsored post. Some samples were received.