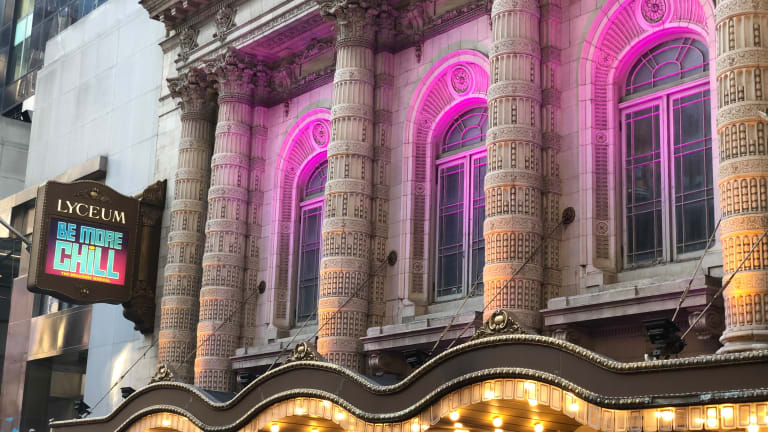 BE MORE CHILL brings high school drama to Broadway
Official Momtrends family review of Be More Chill
There are four musicals and a play about high school currently running on Broadway. That's a lot of social angst and drama. The latest addition to the mix is Be More Chill. 
Here's a look at Be More Chill on YouTube
BE MORE CHILL exists to brings more high school drama to Broadway. It has been on my radar for awhile. My older daughter read the "cult sensation" novel by Ned Vizzini in 7th grade and did a video report. I liked the message -- no drug is going to help turn you into a cooler version of yourself.
A hit book + a good message should equal success, and there are parts of the show that are solid, but it's not a show I can highly recommend. 
BE MORE CHILL centers on Jeremy. Jeremy is 100% not cool and guess what? He wants to fit in. The poor guy quickly gives into temptation  and swallows a supercomputer pill. 
The pill is loaded with an alter ego, called a "Squip." The voice has a character based off of Keanu Reeves in the Matrix. He guides poor Jeremy on ways to be cooler. At first the plan succeeds, but spoiler alert, drugs don't end up helping. 
Yes, there are a lot of good messages in the book. And I am the last person on earth to try a put a damper on creative energy, but there are a lot of issues with this show. 
Let's start with the review by my 11 year old. She's seen about a dozen musicals on Broadway and is a pretty discerning reviewer. (she loved Beautiful!) 
More of the 11 year old's review of Be More Chill
One of the ways this was awkward was in the costumes. The sets were pretty basic but that didn't take away from the play. In my opinion, the highlight was the song, Michael in the Bathroom which was a fantastic piece! Out of the two high school Broadway shows I have seen (Dear Evan Hansen and Be More Chill), I would choose Dear Evan Hansen; because it was more relatable. I definitely do not recommend Be More Chill to tourists or just regular New Yorkers. 
I think she hit on a number of issues. First, the music is very, very loud. We were third row orchestra and I really wished I had ear plugs, not because the music was dreadful, the volume was out of control.
The music is OK. The only song that we adored was, as stated, Michael in the Bathroom. The young actor who played Michael, George Salazar is a delight. And Christine, played by Stephanie Hsu, also gives a strong performance. But I do have to agree, everyone looks seriously OLD for this show. My daughter googled the lead, Will Roland, he's 30. I know, I know it's acting, but it was a serious stretch for my kids. 
We saw Harry Potter and bought in. 
We saw Dear Evan Hansen and bought in.
We saw Wicked and bought in. 
We just weren't connecting with these actors as kids.
However, there is a HUGE fan base for this show. The folks in front of us knew the music by heart. This is just one family's opinion. 
Things to like about Be More Chill
It is a great show to see to start on some "teachable moments" about high school and drugs. And I will say the performers really gave it 100% . This just wasn't our cup of tea,
See BE MORE CHILL
The Lyceum Theatre
149 W. 45th Street, between Broadway and 6 Avenue
The running time is 2 hours and 30 minutes, including an intermission.
Get tickets here https://www.telecharge.com/Broadway/Be-More-Chill/
PLAN YOUR NYC VISIT
Check out our NYC page for things to see and do in NYC and don't miss these highlights.
This BE MORE CHILL brings high school drama to Broadway feature is not sponsored. Tickets were provided to facilitate the review.