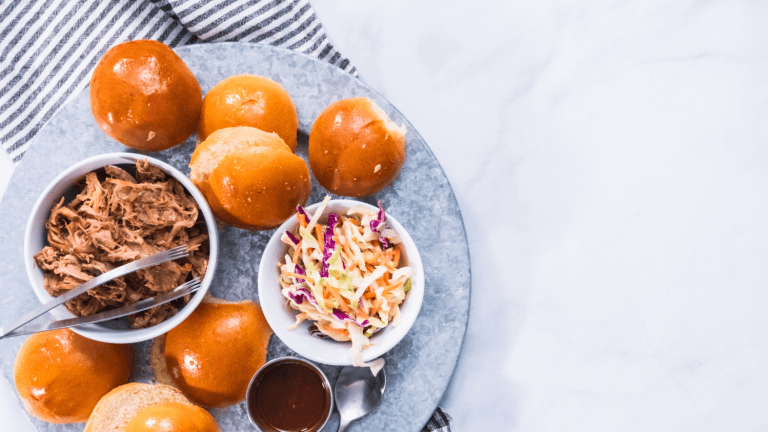 BBQ Smoked Pulled Pork with Green Apple Slaw
Chef Ted Reader breaks down the different cuts of pork, from the tougher cuts like the shank and shoulder, and more!

Nothing offers the smoker more versatility than the humble pig. Every cut off the pig is smoker friendly, and delivers a different delicious flavor to suit every taste. In his new book, The Complete Idiot's Guide to Smoking Foods, Chef Ted Reader breaks down the different cuts of pork, from the tougher cuts like the shank and shoulder, to the tender cuts from the rib and loin, and offers a recipe (see below) and tips on how to cook each to succulent perfection. 'Pig is truly the miracle animal from snout to tail and head to toe the pig is the barer of good eating!' says Ted.
Related: Easy and quick meals to make with store-bought rotisserie chicken
BBQ Smoked Pulled Pork with Green Apple Slaw Ingredients
Hardwood charcoal smoker
8 lb (4 kg) 100% natural lump charcoal or charcoal briquettes
8 cups (2 L) hickory and apple wood smoking chips (blended fifty-fifty) soaked in cold water for at least 30 minutes
Rimmed baking sheet, lined with aluminum foil
Meat thermometer
2 untrimmed bone-in pork picnic 2 shoulder pieces (3'??4 lb/1.5'??2 kg each)
4 bottles Brooklyn Lager 4 bottles
8 cups cold water 2 L
½ cup kosher salt 125 mL
11/3 cup Bone Dust BBQ Seasoning (p. 40) 75 mL
12 soft hamburger buns, split 12
and warmed
Kosher salt and freshly ground
black pepper, to taste
Crushed red chile flakes, to taste
Apple cider vinegar, to taste
Brooklyn Lager, to taste
BBQ Smoked Pulled Pork with Green Apple Slaw Directions:
In a large pot, combine Brooklyn Lager, water, and kosher salt. Place pork pieces in brine, ensuring meat is covered. Cover, refrigerate, and let brine, turning pork 2 or 3 times to brine evenly, for 24 hours.
Drain pork, discarding leftover brine, and pat dry with paper towels.
Rub Bone Dust BBQ Seasoning all over pork, gently pressing to adhere.
Wrap with plastic and refrigerate for at least 2 hours.
Following manufacturer's instructions and using lump charcoal and ½ cup (125 mL) drained wood chips for smoker or 1 cup (250 mL) for BBQ, start fire and bring temperature of smoker or BBQ to 180/225°F (83/110ºC). (Note: Since there are many varieties of smokers, be sure to follow the manufacturer's instructions for smoking.)
Place pork on rack in smoker or BBQ. Cover and smoke, turning meat and misting with Flavour Mist every 45 minutes for 8 to 10 hours, or until bones pull cleanly from meat and thermometer inserted into centre of pork registers 185°F (85ºC). (Note: Replenish charcoal and wood chips -in additions of ½ cup (125 mL) for smoker or 1 cup (500 mL) for BBQ, as required, to maintain temperature and smoke level.)
Transfer pork to foil-lined baking sheet and let stand until cool enough to handle. Peel rind from meat and remove. Reserve excess fat from inside of rind. (Note: Trust me, this fat is key to your pulled pork.)
Shred or pull pork into thin strands and small chunks, then add reserved fat and juices from baking sheet. Season to taste with kosher salt, black pepper, and crushed red chile flakes. Drizzle to taste with vinegar and beer, then thoroughly mix. (Note: Taste it. If you go "mmmmm," it is ready to eat.)
Mound pulled pork on buns, then top with Green Coleslaw.
Flavour Mist
1 cup apple cider vinegar 250 mL
1 bottle Brooklyn Lager 1 bottle
2 Tbsp honey mustard 30 mL
1 Tbsp kosher salt 15 mL
2 tsp vegetable oil 10 mL
Flavour Mist

In a bowl, whisk together vinegar, Brooklyn Lager, honey mustard, kosher salt, and oil. Transfer to a spray bottle and refrigerate until ready to use.
Makes about 3½ cup (875 mL)
Green Apple Mustard Coleslaw
1 small head white cabbage, shredded) 1
1 red onion, thinly sliced 1
2 green apples, grated 2
1 carrot, grated 1
2 green onions, chopped 2
1 Tbsp fresh parsley, chopped 15 mL
2 Tbsp honey mustard 30 mL
2 Tbsp apple cider vinegar 30 mL
2 Tbsp vegetable oil 30 mL
Green Apple Mustard Coleslaw Directions:
In a large bowl, toss together cabbage, red onion, apples, carrot, green onions, parsley, mustard, vinegar, and oil. Season to taste with salt and pepper. Cover and refrigerate
Home Chef Pork Buying Basics
Boston Butt: Also called pork butt, it comes from the upper shoulder. 'It is a relatively tough meat, but after 12 or 16 hours in the smoker, it turns into some pretty tasty pulled pork!' says Ted. It can also be cut into steaks or ground for sausages.
Pork Spare Ribs: Taken from the belly side of the ribs where they join the breastbone, they are tougher than back ribs, and are best prepared by smoking very slowly over a lower temperature.
Pork Loin: Pork can have up to 17 ribs, unlike beef and lamb, which only have 13. The entire pork loin can be smoked, bone-in or boneless. It can also be cut into individual cops or cutlets. The tenderloin is taken from the rear of the pork loin, and baby-back ribs come from the upper rib cage area of the loin.
Ham: Taken from the back legs of the hog, ham can be fresh, smoked, or cured. 'I love the comfort that ham brings to my life,' says Ted. 'Sliced or carved ever so thinly and piled high on a soft onion roll, served with a spicy Dijon mustard, gruyere cheese and pickle on the side. The Ham Sandwich is king in my books!'
Loaded with over 60 mouthwatering recipes, The Complete Idiot's Guide to Smoking Foods (not this is an Amazon Affiliate link) has everything you need to know for preparing tender meats, sensational side dishes, and other delicious foods to become a master smoker.
MORE FOOD IDEAS FROM MOMTRENDS
PIN IT!
Use Pinterest to plan your meals and save new recipes. Be sure to to follow our Recipes to Inspire board here.
Momtrends was not paid for this post. We received the cookbook.