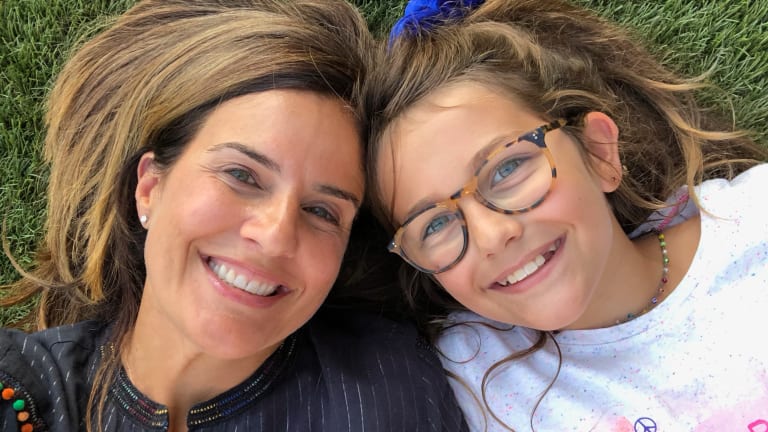 Back-To-Me Mom Routine
Living the best mom life with Always Discreet
Mom life is the best life. I've been blessed with two amazing girls and watching them blossom into tweens and teens is a great joy (mostly). I've been really honest with them about how powerful women are. We talk about having strong bodies, not limitations. I'm all about playing up how great it is to be born female. And I think I do the same thing here on Momtrends. I try to celebrate all we are. When there's a problem, I'm all about coming up with solutions that will get us back to feeling strong and confident. That's where Always Discreet comes in.
Making Time for You
Whether your kids are 3, 13 or 23, you already know mom life is the best life. Sure it's got its ups and downs, but it's also A-mazing. One of the sure-fire ways of staying sane and witnessing the joy of motherhood is having your mom posse by your side. Being a mom means joining a very inclusive club. And one of the tips I give new moms is to make time for girl time.
Grab a coffee, a croissant and a friend and get open and real about the nitty gritty of motherhood. Only when we lay it all out there can we get the best advice and support we need. I make two or three coffee dates a month to connect with my female friends. Making time for friendships is key in my life.
When I gather with my girlfriends, we talk about what's working. For me, pregnancy was pretty fabulous. My pregnancies went smoothly and the girls were healthy. After pregnancy, almost all of the focus on the mom disappears. Thank goodness I had a group of women in my life who didn't forget about ME after my babies were born.
I find it fascinating that we all but ignore what happens to women post pregnancy. No more keeping secrets ladies. 
For me, issues popped up right after baby number two. When I sneezed or laughed, I well, you know, pee happens. I relied on pads as a fix. As my body recovered from pregnancy, I doubled-down on my pelvic floor exercises at Pilates class and the issue resolved itself. But it's not so easy for other moms. I was lucky to have girlfriends who shared tips and advice. I want to be that girlfriend for you.
I want all moms to be able to power through a run or a pilates class with complete confidence. It's imperative that we don't neglect ourselves and we don't judge. Frequent bladder leaks can affect many aspects of life, from style and sleep to relationships and confidence.
How We Can Help Each Other
Yep, we're going there. You know why? Because bladder leaks are real issue, and sometimes, they stop moms from getting out there in life. Here's the story: more than 40 million American women of all ages experience bladder leaks. Don't feel alone if you have a sensitive bladder. Leaks are experienced by women for a variety of reasons. Just know you are in good company. 1 in 3 women experience bladder leaks, and it's even more prevalent in African American women, with 1 in 2 experiencing leaks. This means every time you go out for coffee with a friend or two, ONE OF YOU IS DEALING WITH THIS.
What Can We Do?
First and foremost, educate yourself. Talk to your friends and talk to your doctor. Don't be a martyr. Figure out what works for you and own this post-baby body.
Did you know 45% of women with sensitive bladders feel older than they are? It's true. Always studied it and found out that women with bladder leaks feel 9 years older than they actually are. And even worse, 33% lack confidence to wear the clothes they love.
After you've checked in, it's time to get the product you need to get active and jump back into life. You're not old mama, you've just got a bladder that needs a little support. Don't get caught in the adult-diapers trap. What you might need is a pad or liner specifically designed to help with their bladder leaks. Most women I know just use menstrual pads, but these products don't provide the right kind of protection. Always Discreet liners absorb 2x more than menstrual liners for the women that are currently using period liners as a source of protection for bladder leaks.
Talking About the Issues Matter
You know why girls and women feel marginalized some times? Because we are left out of conversations. This happens with money and it certainly happens with our health. Only when we share and talk about what's happening can we move forward with confidence.
Talk about what's stopping you from getting out there, find the right product and then go. For me, getting back to "me" meant getting back in shape. I started going to private Pilates classes to reclaim my pre-baby body. In addition to Pilates, I tried yoga. Making time for fitness made me feel capable and strong. Getting there required effort, research and time. The key is to keep going. Figure out what works for you and own your body and all its awesome power. What's holding you back from being the mom you really want to be?
Being the Best Mom You Can Be
Always Discreet is there for you when you need it. It's the perfect combination of form, function and feminine design. With Always Discreet, bladder leaks can feel like no big deal. And that's a really big deal.
Why is Always Discreet different than a pad? The technology uses RapidDry™ that absorbs leaks in seconds, Dual LeakGuards™ that help stop leaks where they happen most and OdorLock™ that neutralizes urine odors instantly. I want to share what works!
Fitness and friendship are a huge part of my self-care program. Without them, I don't have the support I need to be my best version of myself. Let's talk about it ladies, I'm here for you! The more open we are with each other, the better our lives will be.
Pin it 
Use pinterest to save health and wellness tips.
This Back-to-me mom routine feature is sponsored by Always Discreet. 1. The Always Discreet US Survey was conducted using the IPSOS Panel that surveyed a total of 400 American Women (aged 35 to 65 years old). Of the 400 women, 200 have experienced any urine loss/bladder weakness in the past three months and 200 had not experienced bladder weakness. Significance testing between the two groups were done at 90% confidence level. The survey was implemented between the dates of September 15, 2015 through September 25, 2015.
*In the study are 65 women with sensitive bladders who use specific products for bladder leaks.
*based on average consumer loading
**alt. '100% discretion' – to be adapted according to local guidance