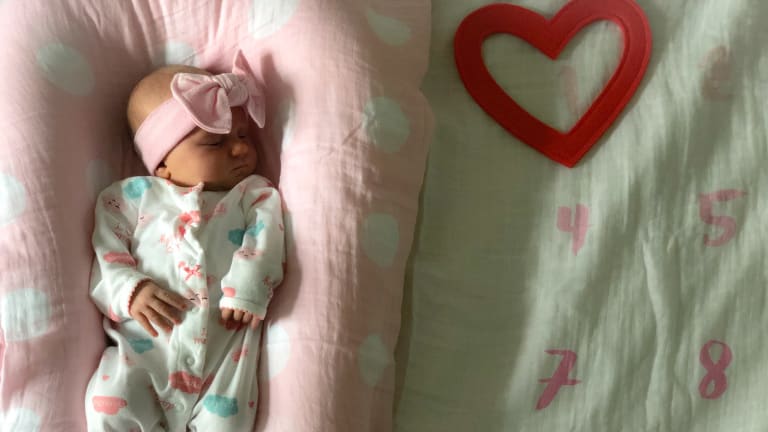 Baby's Firsts: Fun Ways to Mark the Months and Milestones
You know the old parenting adage: the days go slow,but the years go fast. 
Turns out, it doesn't necessarily apply to your third child. With two big kids to care for and a newbie nugget to tend to, every moment is a busy blur. In fact, the days are flying by. In the blink of an eye, eight weeks have passed; and I can hardly believe I'll have a two month old in no time. (Cue the bitter-sweet mom tears.)
I want to relish all these early moments, but it's hard to slow down when you have a first grader who needs to be chauffeured to baseball and coding class and a four year old who wants play dates and picnic parties every day after preschool.
The juggle is real, and while I might not be able to hold my mini muppet for every nap (even though I'd like to), I can still make sure to capture the special, fleeting ages and phases of infanthood.
In this age of staged social-media momming photos, why not snap some pics of your little one to remember the milestones?! If not for sentiment's sake, do it for the 'gram.
Here are six sweet ways to capture Baby's first months and milestones. 
Swaddle
A sleeping one-month old will cooperate while you meticulously pose her on a swaddle that indicates her age. There are a many beautiful designs to pick from, but maybe avoid the ones that give a floral circle to place the baby inside. That may work before she's mobile, but wait a few months and your milestone photo shoot will be much more challenging. I loved this set from Target's cloud island collection. It includes a number swaddle, heart frame, and separate pink blanket to lay the baby down on.
Number Blocks
Plop these nifty blocks down next to your growing babe and you can easily and instantly capture the moment. Minimal effort, amazing photographic results.
Felt Board
Give your monthly announcement a clever twist or social-media shout-out with a felt-board. This nifty message maker comes in handy for other holidays too (or any time you feel like saying something!). 
Personalized Sign
Want to go into further detail? Give info like height, weight, likes, dislikes and more with a personalized chalkboard. Fill in the deets, take a  pic, and you'll always remember the little things--like how Baby loves pureed pears and hates all pacifiers.
Number Stickers
I used the monthly stickers with first two. Just slap one on a white onesie and you're in business, but keep in mind that they can easily be peeled up and off by curious babes working at those fine motor skills..
Socks
Advertise Baby's age on the sole's of his socks. How cute is this? Take a snap that focuses on the size of your wee one's wiggly tootsies--and watch how they grow throughout the first year. 
Next Read: A Better Mattress for Baby
This is not a sponsored post. It may contain affiliate links.