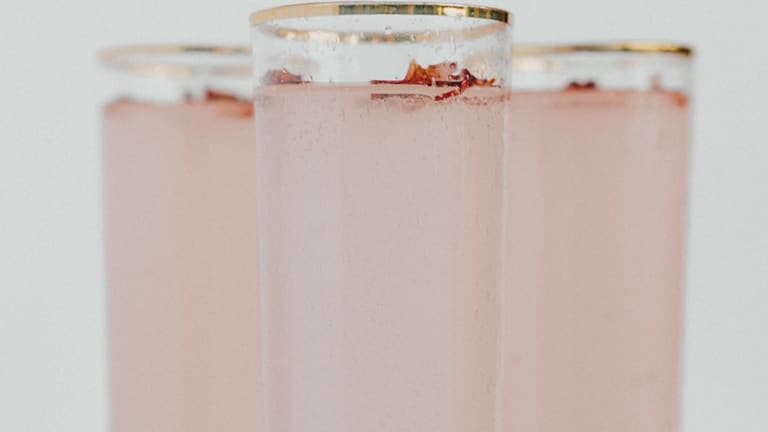 Baby-Shower Mocktail: The Sparkling Emilia
A Signature Drink for a Celebratory Event
A Signature Drink for a Celebratory Event
We're celebrating our sixth annual #MTBabyShower event and giveaway with a gorgeous signature mocktail recipe for the mama to be...
A baby shower is a momentous celebration that warrants a signature mocktail that's as beautiful as the mama-to-be. What a wonderful opportunity to make all of your non-drinking guests feel included by serving a grown-up, delicious, and beautiful mocktail--or should we say "momtail?"
"Non-alcoholic" doesn't have to be basic and boring; there are so many options for sophisticated mocktails these days. We promise your guests won't even miss their mimosas and margaritas (or the morning migraine!) when you serve up something special and delightful.
One of our favorite baby shower mocktails is The Sparkling Emilia – she is GORGEOUS and delicious but she's also easy for the hostess to make. While you can prep a large batch of The Sparkling Emilia to make it even easier, it's not necessary. Organize your glasses beautifully on a table and pre-fill them with the simple syrup and grapefruit juice. When you are ready to serve just top them off with an ice cold LaCroix and your garnish.
The Sparkling Emilia needs the bubbles; be sure to keep your LaCroix ice cold before serving. Don't forget to pull out your favorite clear coupe, chimney, or champagne glass for a special presentation. Garnish the drink with a sprinkle of edible flowers for the full stunning effect. If edible flowers aren't your thing, try a vanilla bean or pomegranate arils.
I wouldn't save The Sparkling Emilia just for your best friend's baby shower, she would be perfect for a lunch or brunch with your girlfriends, too. 
Sparkling Emilia Ingredients
1/3 oz. Rhubarb Vanilla Simple Syrup
1.5 oz. Grapefruit Juice
3 oz. Plain LaCroix
Instructions
This drink is best served cold. Make sure the LaCroix is good and cold when you start pouring. Mix all three ingredients together. Serve and enjoy!
Visit www.marnierae.com for more recipes & inspiration.
Want more from Momtrends?
1. Adult Mocktails With Loads of Flavors of Fun
2. What to Drink If You're Not Drinking
This is not a sponsored post. Copy & recipe by Marnie Rae.