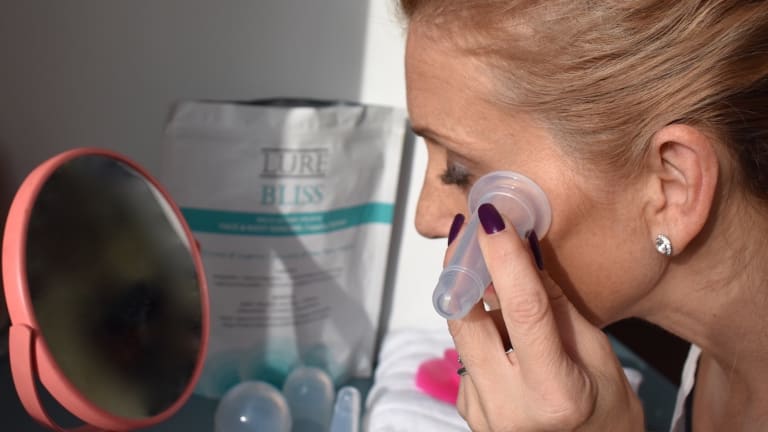 Benefits of At-Home Cupping
Try this alternative natural remedy
We all want to feel our best and try to take actions to improve our overall health and wellness. Self-care is a topic we continue to explore; making choices to operate at our premium so we can be the best version of ourselves. We all love a good deep-tissue massage and are aware of the many benefits such a massage can have on our wellness. Deep Tissue Massage is used as a method of treatment for various ailments but also as a method of prophylactic care.  Newer on the scene on deep tissue massage is cupping. 
Have you heard of Cupping? Cupping is an alternative medicine in which cups are placed on different parts of the body to create a suction seal. Cupping may be a new trend but this method of care dates back to ancient times. Like deep tissue massage, cupping improves circulation, stimulates and activates the lymphatic system and reduces inflammation. Cupping brings blood to the surface of your skin and is used to target headaches, sinus congestion, detox (via the lymphatic system), to support respiratory function and improve circulation. 
As with any self-care it is often hard to make the time for such appointments. We want all the benefits and results but finding an extra hour or two can be too demanding for an already packed schedule. We decided to give at-home cupping a try.
At-home cupping is easy to do and with a little practice is an easy and effective method with a wide-variety of benefits. We gave the Face & Body Renewal Cupping System a whirl and so far are very happy with the results.  We chose to try cupping for chronic sinus congestion and although it took a bit to get used to, after a few tries, I am already seeing results. LURE massage cups work by a reverse massage action that gently (yet effectively) suction and lifts skin tissue for extended therapeutic results. 
At-home cupping can be used on every part of your body from the delicate skin around your eyes to your central line running down your spine. 
Some of the benefits of cupping around the face, eyes and décolletage include:
increase oxygen-rich blood circulation 
stimulate fibroblast cells responsible for collagen & elasticity production 
visibly reduce fine lines and deeper wrinkles
increase depth & efficacy of your skincare products
improve overall skin tone
reduce scars, excess oil and pore size 
help drain lymph, promote breast health
relax facial muscle tension  & tightness
reduce puffiness & saddle bags, revive tired eyes
You can expect results soon after your first cupping trial. My sister suffers from migraine headaches and we gave cupping a try to help relieve some of the tension and she immediately felt relief from her symptoms. Some on site bruising may occur and you can expect redness after application too. 
We love that we can control the level of suction, frequency of application and ability to use the method on the different parts of our body in the comfort of our own home, on our own time in a cost-effective manner without compromising on efficacy. To learn more about cupping visit www.lureessentials.com.
This is not a sponsored post.