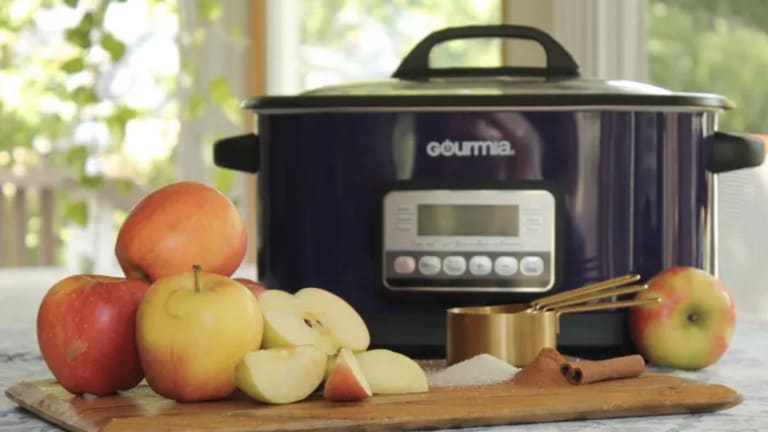 The Best of Apple-Picking Season
What to do with the fruits of your labor after you bring home all those apples from the orchard.
Apple picking is one of my favorite family autumn activities. I love getting my kids outdoors in nature and hunting for the biggest, roundest, reddest fruits we can find. We usually collect a big wagon's worth--taste testing some along the way--and leave the orchard with an impressive bounty. Over the next few weeks, my we eat a LOT of apples. At last one goes in each lunchbox and then we try to find new and delicious ways to cook and bake with them. But I also save some for few tried-and-true eats and treats.
Related: Boozy salted caramel apple cocktail
What to do with all those apples
Apple Harvest Soup: The weather is getting cooler; there's a crispness in the air. This is the time of year that I like to make and eat soups. This apple-harvest soup features the flavors of fall. It tastes like October.
Apple Cider Donuts: Okay, so this recipe doesn't actually use apples, but it does require apple cider (which you'll likely score on your orchard trip). These treats are sweet and cinnamon-coated and scrumptious.
Apple Pie Sangria: Sugar, spice, and apple-pie sangria--so nice! This spiked cocktail, with chunks of apples, is perfect for fall entertaining. 
Slow Cook 'em: If you have a bounty of apples to get through, you're going to need more than a recipe or two. Throw them in the slow cooker and you can make everything from sweet breakfasts to savory sauces and sides.
MORE FALL RECIPES FROM MOMTRENDS
PIN IT!
Use Pinterest to save your favorite recipes ideas. Be sure to follow our Apples board here.
This is not a sponsored post.