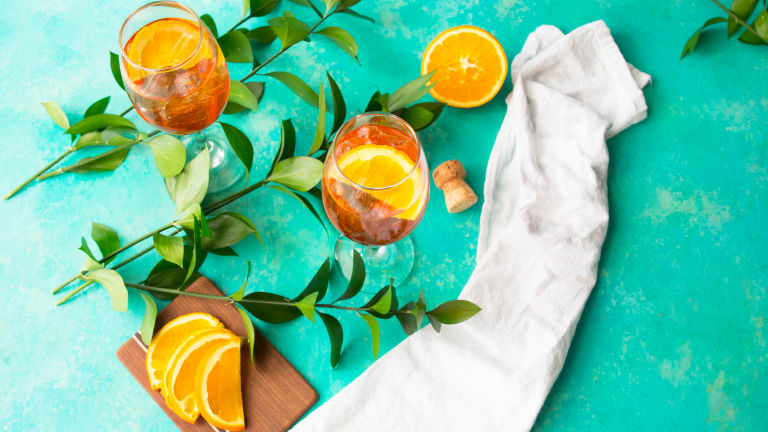 An Aperol Spritz Is Just What You Need To Sip On And Relax This Weekend
So, have you heard about this trendy Italian spritz yet? Until recently, (and surprisingly) it was not really on my radar. Then recipes started filling my feeds. So, I did what any curious cocktail loving woman does....
Yep, I Googled. I admit it, we all do it, and I'm so glad I did. Mostly because I can't accept there may be a delicious cocktail I have not tried.
Today that oversight ends. I'm sharing a delicious spin on the Aperol Spritz that includes Spindrift sparkling water. The orange mango flavor pairs perfectly with the orange rhubarb Italian liqueur.
One of the things I have come to love about the cocktail is that it's not supersaturated with alcohol. So, I can sip generously, and I do not have to feel guilty for enjoying a second glass.
Simple and delicious, you really must give this classic cocktail a try! Go ahead, call your girlfriends and schedule some time to relax and catch up. Make this your signature cocktail of the evening, and you'll be so glad you did!
Ingredients: makes one cocktail
Ice
Two parts Aperol
Three parts Prosecco
One part Spindrift Orange Mango Sparkling Water
Directions:
Fill a large red wine glass with ice. Add Prosecco, Aperol, and sparkling water. Give the glass a quick stir and garnish with an orange slice. Serve and enjoy immediately.
Happy Sipping!
Remember, sharing is caring!  Be sure to check out these other refreshing cocktails too: Coconut Lime Spritz, Bourbon Peach Thyme Sweet Tea, and Pina Colada.