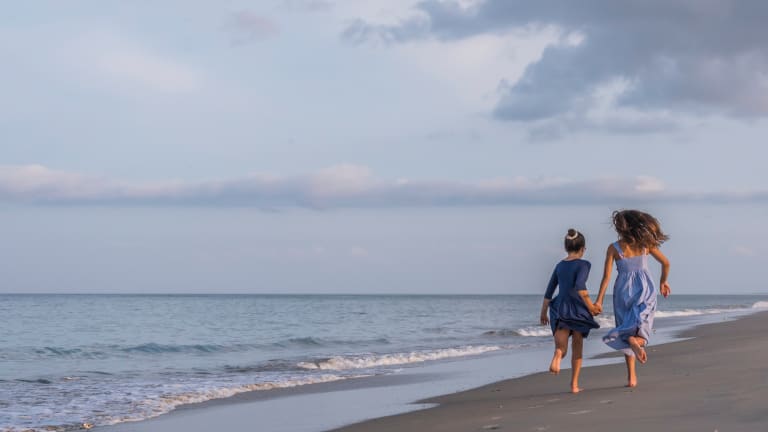 Always: #EndPeriodPoverty Donation Program
Giving Girls the Power to Learn
My girls are heading back to school. Yes, I have worries. Each girl has a BIG shift this year. One is at a new school and one starts middle school. As I prep them for the school year and do all I can to make sure it will be successful, I realize the luxury of my worries. There are girls who will be missing the first days of school because they don't have period supplies. That's why I want to talk about the Always mission to #EndPeriodPoverty and how we can help.
Sure, I've helped my girls pick stylish outfits for Day 1 and I've let them agonize over the just-right backpack, but I am also helping them keep things in perspective. Here's a little stat I shared with them: Did you know that nearly 1 in 5 American girls have either left school early or missed school entirely because of a lack of access to period products? 
The Realities of Period Poverty
My girls are both in middle school now. Periods are a part of life, and for the most part, don't slow girls down. But if you barely have money for food and clothing the monthly drain on the family budget for pads is all too real. Money to buy the supplies girls' in a menstrual cycle sometimes just isn't there; so a girl will stay home. This starts a vicious cycle: missing classes, getting behind in school work and missing out on activities, like sports and clubs. 
Think about it. Middle school is the place to start developing passions and interests. My daughter is beyond excited to finally get to try out for the middle school play this year. What happens after school can be just as important as intro to Spanish. Sports and activities help build her confidence and skills, and missing out can limit a girl's potential and opportunities far beyond puberty.
Always as an Agent of Change
This back-to-school season, Always wants to spark a national conversation. As I prep backpacks and stock up on lunchbox supplies, I plan to make time to help Always raise awareness about the lack of access to period products that is affecting millions of girls in the U.S. 
This year Always is striving to donate an additional over 15 million period products to Feeding America, a long-standing partner. The donation will happen through Feeding America's school pantry program. It's pretty easy to join me in the movement. 
Two Ways to Help #EndPeriodPoverty
Get Social 
Get Involved & Get Always
We need to talk. I try to talk about my girls' health in clear terms and NOT act embarrassed. If they see me taking on my periods without drama and dread, they will too. Once you talk with your girls, it's time to jump onto social media. Joining the #EndPeriodPoverty conversation can help end the stigma around periods and lack of access.
Getting involved is a great way to show our girls we support them. This year, I've worked with Always to get period supplies to some of the organizations that really matter to me. We've worked with Good+ to get supplies to NYC shelters and I've worked with my school to support the Little Flower Children and Family Services with their drives for personal care and period care items. Always will be working with Feeding America to get the donated products to girls in need. Head here to check out the Feeding America opportunities near you or ask your local organization or church if you can help get period supplies to girls. Many church food pantry also stock personal care items.
Shopping is often my solution to problems. And this one is no different. As we stock up on our period supplies, I am helping the cause. 
Now it's Your Turn to Help!
For decades, Always has been empowering millions of girls through puberty and confidence education, providing products to girls in need, and most recently by tackling societal barriers through the Always #LikeAGirl movement.
Pin it and Take Action
Use pinterest to spread the word about how we can help end period poverty.
This Always: #EndPeriodPoverty Donation Program feature is sponsored