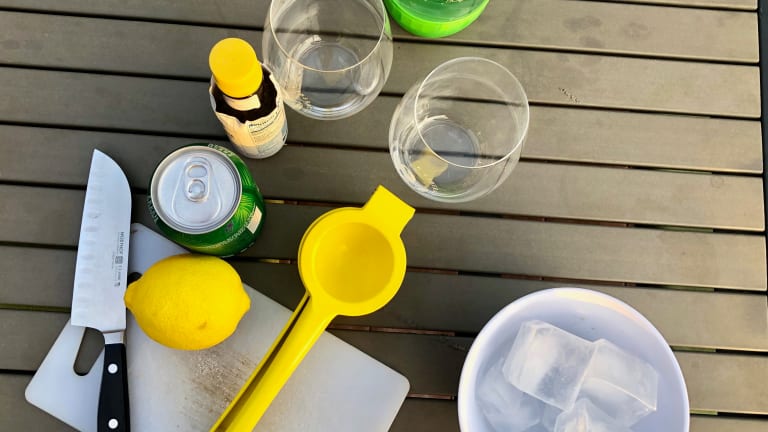 Adult mocktails with loads Flavor and fun
Reed's Zero Sugar Ginger Beer Recipe for a non-alcoholic Moscow Mule
For health and wellness reasons, I've been drinking more mocktails and less wine. I'm always on the hunt for drinks that aren't too sweet and those that aren't loaded with sugar. Reed's sent me some product and recipes to try that are adult mocktails with loads of flavor and fun. 
I loved Reed's craft ginger beer when I was pregnant. The Jamaican-inspired recipe is pretty famous. It's crafted with fresh ginger root, natural fruit juices, honey and spices. When I was pregnant I loved it straight-up or mixed. Now I'm rediscovering Reed's.
Since 1987, they have been growing the brand and trying to spread the word about the power of ginger. Ginger is one of those very rare things that feels good and is somehow good for you. To inspire us to sip more ginger beer this summer, Reed's teamed up with Maya Feller with some cool mocktail recipes. 
I used Reed's Zero Sugar Ginger Beer in these recipes from Maya Feller, MS, RD, CDN, Registered Dietitian. Maya specializes in sharing approachable and real food based solutions across the country. 
Non-Alcoholic Moscow Mule Recipe Ingredients
6 oz Reed's Strongest Ginger Beer
2 oz Sparkling water
1 Lime
1 Tablespoon of simple syrup
Non-Alcoholic Moscow Mule Recipe Directions
Squeeze a lime into a copper mug (or Collins glass). Add simple syrup and sparkling water. Fill mug half-way with ice, then pour in Reed's Strongest Ginger Beer. Top off with a lime wedge.
Non-Alcoholic Ginger Beer Lemon Spritz Recipe Ingredients
6 oz Reeds Ginger Beer Strongest
4 oz plain sparkling water of your choice
2 tablespoons lemon juice
3 dashes of bitters
Thinly sliced lemon wedges for garnish
Ice
Non-Alcoholic Ginger Beer Lemon Spritz Recipe Directions
Fill each glass half full with ice. Pour 6 oz of ginger beer into each glass. Stir in seltzer and lemon juice. Finish with bitters and lemon wedges.
Why Reed's?
Reed's is packed with real, fresh ginger, known around the world for its health benefits and stimulating properties. They source their ginger sustainably from the Peruvian Amazon—a bold strain found nowhere else.
Let me know if you try these recipes. I found them refreshing and perfect for a night where I want lots of taste but no alcohol. 
More Mocktails on Momtrends
Pin it! 
Use pinterest to save your favorite mocktail recipes.
This Adult mocktails with loads of flavor and fun feature is not sponsored.