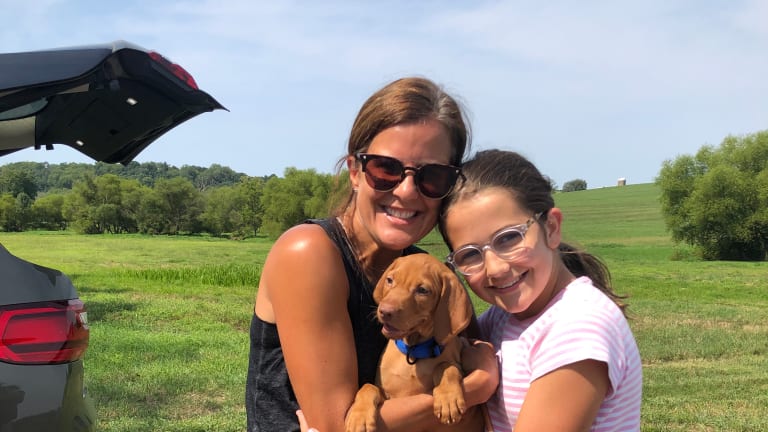 A Super Mom Deserves a Super Car
Kelley Blue Book is the car-shopping resource to make car buying easy and they've got an amazing sweepstakes just for mom.
This is a sponsored post that has been written in partnership with Kelley Blue Book. All thoughts and opinions are my own based on my experience.
Every super mom deserves a super car. In the past year, I think I earned the title of super mom; caring for family through a pandemic isn't easy. Thankfully, there are brighter days ahead, This summer I'm excited about two things, the ability to travel and having a new driver in the family. Since we have a 16-year-old girl in the family this summer, we will also need to upgrade and add to our fleet. To avoid the stress and frustration that comes with car hunting, I'm going to be using Kelley Blue Book, a car-shopping resource to make car buying easy.
Thank Goodness for Cars
In the last year, so many things about life changed. Normally our family takes many, many, trips for work, play and to see family. Since we didn't venture off in airplanes, our family cars were our ticket to travel and they made sure we were able to safely navigate this weird year. When we weren't homeschooling or baking banana bread, we did sneak in some adventures.
It was the year of epic road trips and I couldn't have done it without my wheels. Our most memorable moment was the great swing south. We headed to the beach for a two-week stay in the Outer Banks. We quarantined to facilitate a three-generation family trip in a big seaside house. It was 13 hours in the car, but so worth it to get the kids together with cousins and grandparents.
On the way home, we picked up a new family member, Kingsley, our baby Vizsla. Now that our family has expanded, we're happy to have a large SUV to get everyone from point A to point B.
Three Generations of Drivers
This year brings lots of excitement...in the form of a learner's permit. We've got a teen currently taking her driver's education class. Bear with me for a little mom brag, the world is getting a great new driver this year. She's a good, careful driver and I'm proud of her quest for independence, but I'm more proud that she's taking her driving lessons seriously. She'll get her license soon, which means we'll need another car. We're using Kelley Blue Book to research cars that are safe, reliable and good in the snow.
Oh, and it's not just one new car I'm researching: I'm truly a member of the sandwich generation. In addition to the younger generation, I'm also helping my parents more and more. My mom has a 2012 car with 180,000 miles on it, I'm helping her research her next sport wagon. Kelley Blue Book helped me figure out the value of her current car, and is giving me a good idea on the pricing of her next vehicle.
Kelley Blue Book helps you match the car to the driver. And I love having a resource that allows me to serve everyone in my tribe. 
2021 Best Family Cars
As a busy family, we rely on our car on everything from grocery shopping to weekend getaways. Our cars work to keep our families moving forward together. If you are like me and ready to look at upgrading and adding to your family's cars, you need a resource that's reliable and easy to use. Kelley Blue Book just released their list of 2021 Best Family Cars and I'm excited to share the winners. New on the Family Cars list this year are the redesigned Chevrolet Tahoe and the Toyota Sienna. Head to the list here to see if your dream car made the list.
The list includes minivans and a variety of SUV's. Kelley Blue Book brings many of these vehicles to our offices for head-to-head tests. The staff testers include parents of children ranging from toddlers to young adults. Kelley Blue Book is the most trusted resource when it comes to car research and advice for car buying, selling and ownership.
Enter Kelley Blue Books' Best Family Cars Sweepstakes
Just in time for Mother's Day, Kelley Blue Book is hosting a sweepstakes to celebrate all the moms who have powered through this past year. Enter on twitter from May 3-17 for an opportunity to win a prize pack to celebrate the mom in your life.
To celebrate all moms do, Kelley Blue Book is helping a loved one give their mom (or a mother figure in their life, or if you're a Mom yourself!) the ultimate Mother's Day gift. Kelley Blue Book is hosting a social giveaway for consumers to enter for a chance to win a Stay Connected Tech Prize pack to help stay in touch with your loved ones near and far this Mother's Day!
From May 3- 17, consumers can go to Kelley Blue Book's Twitter (@kelleybluebook) to see a pinned Tweet with instructions on how to enter: must follow @KelleyBlueBook, use #BestFamilyCarsSweepstakes and Tweet 3 words that describe their Mom/mother figure in their life
Prize is a Stay Connected Tech Prize Pack featuring tech goodies for mom! Think tablet, smartwatch, and more!
Feel free to retweet Kelley Blue Book's tweet to spread the word! 
This is a sponsored post.