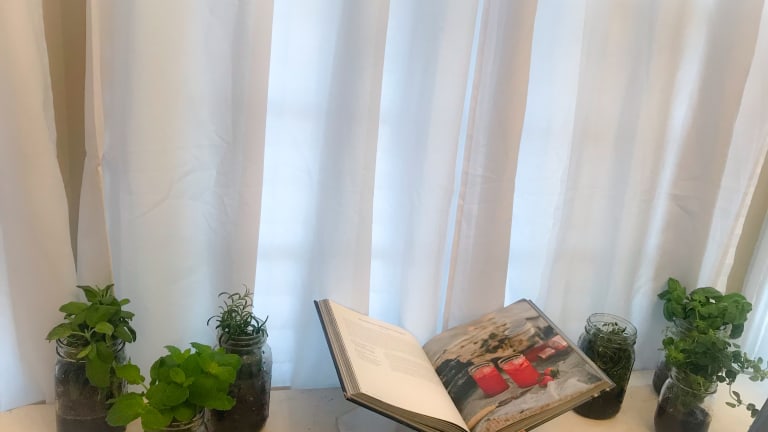 Publish date:
A Sunnier Outlook: Bring Outdoor Elements Into Your Home
DIY Herb Gardens, Floral Bouquets, and Lush Greens and Other Ways to Embrace the Spring in Winter
DIY Herb Gardens, Floral Bouquets, and Lush Greens and Other Ways to Embrace the Spring in Winter
Winter is rough. 
(Okay, Nicole, I know you're reading this and developing multiple counter arguments about snow, skis, family and fun. I hear you, and I get it.)
But still--winter is mostly rough. 
I need Vitamin D. The lack of sunshine and greenery messes with my emotional well-being. And while, I, too, love me a snow-covered mountain, January's brown barren trees and gray skies have given me a serious case of the mid-winter blahs.
One way to combat the cold-weather blues is by bringing my favorite outside elements indoors. I might not be able to capture sunshine in a bottle, but I certainly can embrace a sunnier mindset.
Here are a few tips for bringing a touch of spring to those long, cold winter days...
1. Make a DIY Herb Garden
Your gardening aspirations don't have to wait till spring. A few glass mason jars, some soil, and fresh herbs add up to a really simple and vivacious DIY herb garden. Having fresh and fragrant greenery will perk you up and invigorate a space in your home. Plus, it's a super affordable approach to functional decor. (If you really want to be ambitious, create a windowsill micro-salad garden!)

Fun Ways to Discover Venice Italy with Your Family
Greetings from Italy wear the gelato is rich, the clothes divine and the scenery is inspiring. Now that I've been to this fine city in the north of Italy, twice, I've amassed a list of favorites to share. These are some fun ways to discover Venice, Italy with your family. ...read more
Here's What No One Tells You About Olive Oil
produce is at its absolute PEAK right now. It's the time to prepare fresh veggies and fruit with ease and simplicity. When it comes to cooking, the farmer's market is my muse. As I prepare some of my summer harvest favorites, I'm sharing a little secret, what you put ON the ...read more
2. BYO-Bouquets
I love treating myself to floral arrangements, but I'm especially generous in the winter. That's when I crave color and natural beauty. If I'm on a tight budget, I'll pop over to Trader Joe's for a $5 bunch of pretty blooms, but when I really need a pick me up, I turn to Farmgirl Flowers.
3. Create a Secret Garden
Get this? Searches for "garden rooms" are up 104 percent on Pinterest. These lush green over-the-top rooms are equal parts exotic and chic. In these veritable indoor safaris, you can surround yourself with real plants, faux trees, and potted greenery. Add a few throws, pillows, and poufs, and you have your own little rainforest retreat. 
Want more from Momtrends?
1. 3 Indoor Ways to Use Outdoor Flowers
2. 3 Ways to Prioritize Self Care in 2020
This is not a sponsored post.