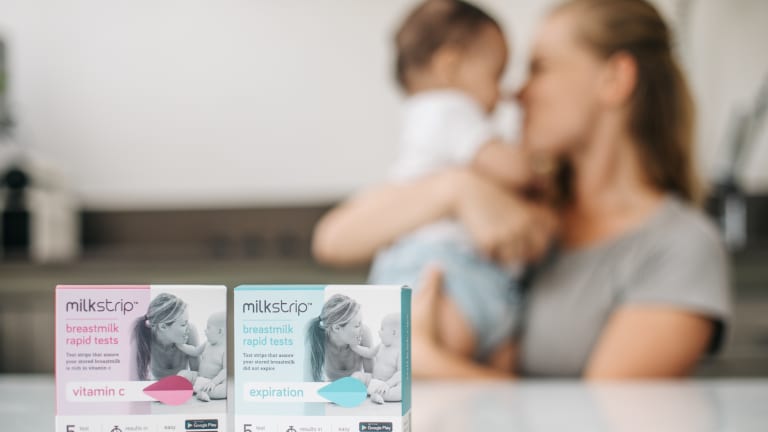 A Must-have Testing Solution for Breastfeeding Moms
MilkStrip offers real-time breast milk testing to give moms more confidence.
Moms face a certain amount of stress when it comes to breastfeeding. Thankfully there MilkStrip provides moms a way to safely and confidently store and use breastmilk. It's all about taking the guess work out of feeding time, letting you get tap into connecting with baby rather than fretting about the quality of your milk
Real-Time Results
DiagnoseStick (a biotech and wellness company that offers breast milk products and services) developed MilkStrip to serve new parents. It is the only company in the baby-tech industry that offers diagnostic kits that deliver real-time results at home without the need and long delay of lab work.
You'll Never Dump Quality Milk Again
I'm remember all too well, the process of pumping and storing milk. It was a part-time job! That milk was liquid gold and I hated to waste an ounce. MilkStrip provides the first real-time testing for evaluating the nutritional profile and degree of freshness of breast milk to empower parents with detailed insights into the sustenance of the breast milk their infants are receiving.
MilkStrip Diagnostic Kits Work
Here's the deal: 40.6% of women question whether or not their breast milk is sour before giving it to their baby. I totally remember this feeling.  In the United States alone, a total of 85% of mothers breastfeed their babies in the first three months postpartum, which means a large portion of breast milk is being unnecessarily thrown out.In just three minutes, you'll know the quality of your milk. No packaging up a test kit, no mailing, no labs, no wait. MilkStrip currently offers two at-home diagnostic kits.
Breastmilk Vitamin C Test kit: detects nutritional deficiencies in breastmilk related to vitamin C levels. 
Breastmilk Expiration Test kit: confirms whether or not stored milk is expired. 
63% of American mothers are not meeting their nursing goals. They need their breast milk, to be analyzed for qualities such as fat, iron, and acidity components, analyzed at home and in real-time with actionable insights to accompany the results to ensure their babies are getting the nutrients they need. MilkStrip home tests give moms the information they need.
Why Should You Test Your Breastmilk
The first reason to test your milk is to give your baby the best. Real-time diagnostic kits help parents learn about the quality of their breast milk, and their babies' vitamin levels and how to best care for them with actionable insights.
Breast milk contains many antibacterial ingredients that are best within the first 48 to 72 hours of refrigeration. For those times when milk is left out, frozen and reheated, or aging, MilkStrip is there to reassure mothers that their breast milk has not expired and consists of the right acidity for their growing babies.
The second reason to test is to save waste. More than 60% of women throw out stored breast milk, which is usually still good for consumption because they are unsure of its quality profile. When mothers become uncertain of the vigor of their breast milk, they would rather be safe than sorry. This is so, so hard. We all hate tossing milk that we produced. MilkStrip give mamas a sense of peace.
A Note About Breastfeeding
First of all, Momtrends is a judgement free zone. Whether or not you bottle or breastfeed, we're here for you. But if you can do it, breast milk has been linked with potentially lowering the odds of obesity and boosting IQ by up to 5 points. Do what's best for your family and know that MilkStrip is here to help. Get more details here to milkstrip.com.
Win it!
Ten winners will receive the Breastmilk Vitamin C Test kit and the Breastmilk Expiration Test kit, which include access to MilkStrip's app for actionable breastmilk insights. Enter with this Rafflecopter form. Note: by entering this giveaway you will be added to Momtrends trend report newsletter.
This is a sponsored post.