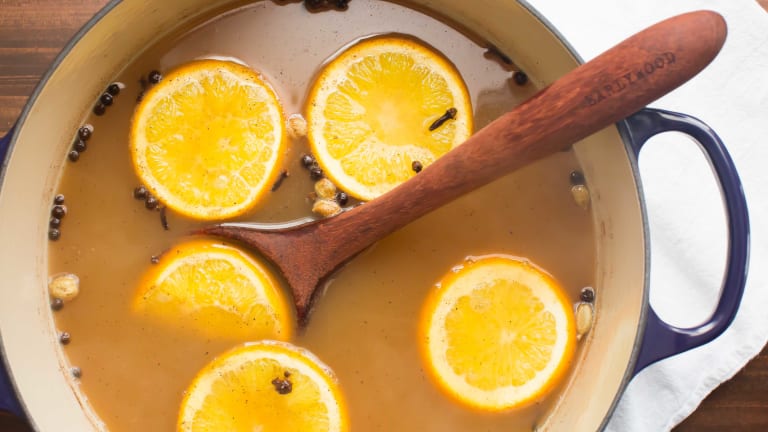 A Mulled Cider Mocktail-Cocktail
With Thanksgiving less than a week away, it is time to smooth out your holiday menu. I, for one, adore Thanksgiving. The delicious food and time with our loved ones are just the best.
In addition to fantastic food and wine, I always try to serve one signature cocktail. This year I am featuring a mulled cider mocktail/cocktail recipe. Mocktails are hot right now, and when you set up a method like this, you are including everyone in the cider fun.
A mocktail can be fun for those who do not drink, those who are pregnant, or your kids. To liven this cozy mug up, I like to sit out my Batiste Rhum Gold and Goldschlager for everyone to add to their cup themselves. This way everyone has a drink custom made just for them.
Be sure when picking out your cider you choose a pasteurized one for any pregnant family members. Also, feel free to add your spices if you find your favorites are missing. Mulled wines and ciders are easily customizable and scalable.
Ready to give this mulled cider a try?
Ingredients: makes about 8-10 mugs
1 gallon of your favorite apple cider
1 navel orange, sliced
10 cardamom pods
1 teaspoon allspice berries
2 cinnamon sticks
1/2 teaspoon whole cloves
1/4 teaspoon fresh grated nutmeg
1 1/2 oz Batiste Rhum
1/2 oz Goldschlager
Directions
In a large dutch oven, combine all ingredients except the alcohol and bring the pot to a boil. Reduce to a simmer and cover. Cook for about 45 minutes and remove from heat. Transfer to your serving station. Be sure to sit out the alcohol and mugs for a self-service cider station. Garnish with an orange slice, cinnamon stick, or apple slice.
Happy Sipping!
Be sure to check out these other cozy drinks too: Mulled Wine, Spiked Hot Chocolate, and Hot Toddy.