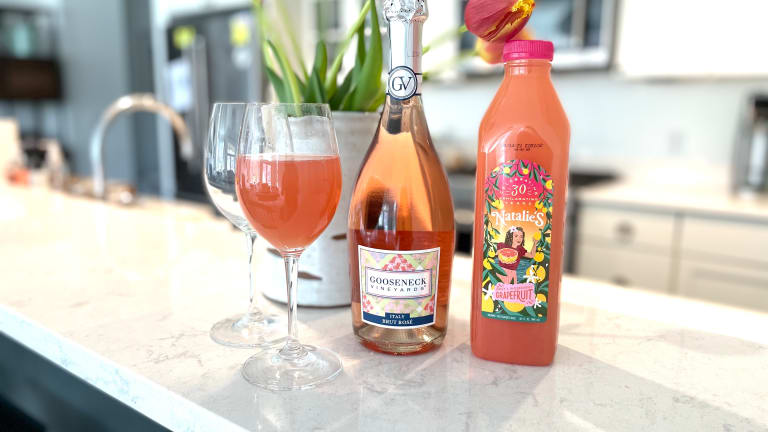 A mimosa perfect for someone who hates orange juice
National Mimosa Day is coming up on May 15, here's a brunch-friendly sparkling cocktail for those of us who don't like orange juice.
I'm going to let you on on a secret. I love brunch, but I really don't care for mimosas. Over the years I've trained my tastebuds to appreciate tart things, the overpowering sweetness of orange juice makes me cringe and gives me a headache. When I got a press release this week alerting me that Mimosa Day was coming up, my first reaction was "yuck," but then I scanned my fridge and came up with a mimosa that is perfect for someone like me who hates orange juice.
You might also like our Pomegranate Mimosa cocktail.
Celebrate National Mimosa Day Your Way
When you think of Mimosas you likely picture an all you can eat Mother's Day brunch. There's likely a pitcher of orange juice and a cheap sparkling wine nearby. I think we can do better ladies. 
Fun Fact: The original cocktail is named after the yellow-flowered mimosa plant. The mixing ratio of the drink is under hot dispute, but generally it's a little bit of bubbles and a whole lot of OJ.
I decided to tinker with the tradition. National Mimosa Day is coming up on May 15, here's a brunch-friendly sparkling cocktail for those of us who don't like orange juice. My version is tart, refreshing and can be customized to suit your needs; pour a lot of bubbles or cut it with some seltzer if you want to sip all day without getting buzzed.
Fun Fact: Grapefruit juice has a slightly lower sugar content (and fewer carbs) than orange juice and it's definitely less sweet, that's why it's my mixer of choice. 
Grapefruit Mimosa Ingredients
Fresh squeezed grapefruit juice (I like Natalies) 
Sparkling rose. My pick is the Gooseneck Brut Rosé
Seltzer (optional)
Lime (optional)
Momtrends note: It's worthwhile to pick the right rosé. The idea is to make this drink less sweet. I like the Gooseneck Vineyards Brut Rose's balanced flavor. And remember the rule of cooking, you'd never cook with a wine you wouldn't drink, same goes for making a cocktail. If it doesn't taste good alone, it won't taste good in a cocktail. This one is $18 and I like to always have a bottle chilled in the fridge for an everyday celebration.
Grapefruit Mimosa Directions
Now here's where you can customize the drink. My sparkling to juice ratio of choice is 3:1. Three parts bubbles and one part juice. 
Pour in desired amount of grapefruit juice
Add in your sparkling rosé
Sip and adjust ratios.
If I want to cut down on alcohol and sugar even more, I'll cut the above with some seltzer. That makes a truly light and refreshing drink. And if you like a little more zing, add a fresh lime wedge. 
Trust me, once you taste my mimosa, you'll never go back to the orange version.
MORE FUN SIPPING IDEAS FROM MOMTRENDS
PIN IT!
Looking for more food ideas? Check out the Momtrends' Wine Time on Pinterest!
Momtrends was not paid for this post.