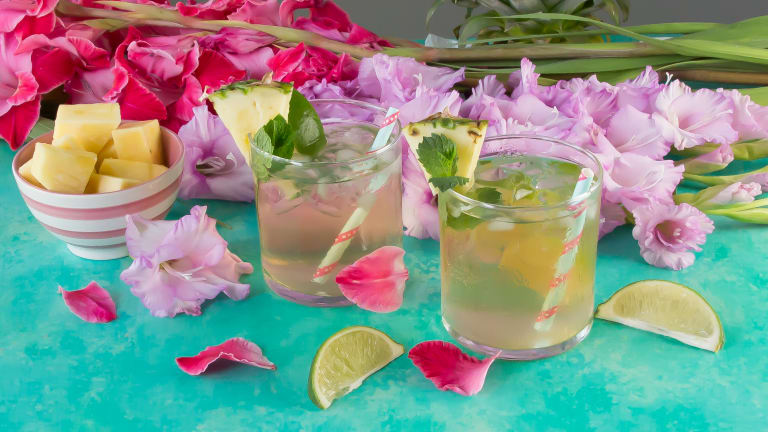 Recently, my family and I enjoyed a week-long stay at a premier resort in Myrtle Beach South Carolina. We make an annual trip there and love every second we get to soak up the sun and sand.
This year, I enjoyed a delightful and crisp cocktail sitting by the pool. It was a coconut lime spritz, and I just knew I had to share this cocktail with you. I am not sharing the exact recipe that the resort used. I added a few tweaks of my own, but it is just as delicious and refreshing.
Positively perfect for relaxing and soaking up August's intense sunshine. And, not overly sweet, which I adore.
If you prefer a sweeter cocktail, feel free to add a tablespoon or so of coconut creme or simple syrup. Either will sweeten the cocktail right up for you.
Similarly, if you don't have fresh limes on hand, you can substitute sweetened lime juice, and it will add sweetness as well as lime flavor. Personally, fresh lime juice makes a more refreshing cocktail in my opinion. I'm a big advocate of using what you have on hand though. So, if your cocktail cabinet has sweetened lime juice, reach for it!
Ingredients: makes one cocktail
1/2 Lime, Juiced
1/2 Cup Coconut Water

Save Money at a Ski Swap
Are the slopes in your future? If you want o save money on ski gear, consider a ski swap.  Connecticut  Ski Sundown SKI SWAP 2021. The Sundown Ski Patrol Ski Swap is one of New England's largest and longest-running swaps. Held in the Ski Sundown base lodge, you'll find a large ...read more
The Ten Best Wooden Play Kitchens For Kids
Cooking is a timeless fascination for children. This type of play goes beyond gender and teaches kids loads of life skills along the way. An investment in a play kitchen is money well spent, as it can provide hours of entertainment. We've rounded up the ten best wooden play ...read more
New Victory Announces a New Season of Shows
We know you're busy planning picnics and summer outings, but we wanted to let you know that The New Victory just announced their new season and it looks fantastic. We thought you'd like a sneak peek of what's in store! Each year the New Vic theater brings culture to tourists and ...read more
1/2 Ounce Black Rum
1/2 Ounce White Rum
3/4 Ounce Pineapple Rum
1/2 Cup Seltzer Water
Ice
Directions:
Fill a short tumbler with ice. Add coconut water, followed by each rum. Give your drink a good stir and top it off with seltzer water. Garnish with pineapple or a sprig of mint. Both if you're feeling fancy.
Happy Sipping!
Love this refreshing Coconut Lime Spritz? Sharing is Caring! Be sure to check out these other refreshing cocktails too: Pina Colada, Paloma, and Burnt Sugar and Cucumber Gin Fizz