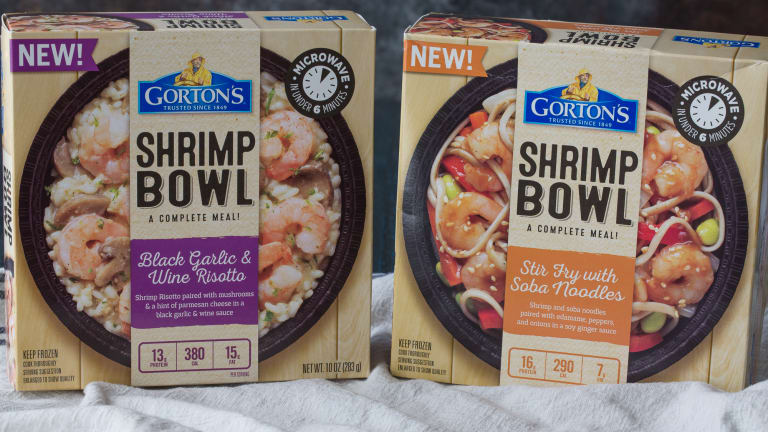 As a mom, I wear many hats in a single day. I am a chauffeur, maid, nurse, and cook to name a few. So, when my to-do list is longer than my day, and I need to get dinner on the table fast, I've learned I can trust Gorton's.
After all, Gorton's has been around for 167 years already and is still going strong. I remember loving their fish sticks when I was a  child. This has now turned into a multi-generational trust to help me accomplish all I need to do in a day.
Of course, this comes with no complaints from my son either. He loves Gorton's products as much as I did as a child. And still enjoy as an adult.
Now, the Gorton's Fisherman is bringing us these fantastic shrimp bowls to entertain our palates. I love the new flavors like Black Garlic and Wine Risotto and Stir Fry with Soba Noodles.  
Pretty fancy step there Gorton's, I approve! So does my four-year-old. He devoured the Stir Fry with Soba Noodles without a hitch. Give that kid seafood and noodles, and he is in preschool heaven. I still can't get him to eat mushrooms, but I thoroughly enjoyed Black Garlic and Wine Risotto. Besides, when is risotto not a good idea? Throw in a glass of your favorite white and Mom; you can enjoy a fancy meal in as little as 6 minutes!

Save Money at a Ski Swap
Are the slopes in your future? If you want to save money on ski gear, consider a ski swap. A swap is a great way to buy and sell used equipment. Most swaps consist of a variety of gear, from brand new to used skis and snowboards to skis; from poles to boots to bindings and ...read more
The Ten Best Wooden Play Kitchens For Kids
Cooking is a timeless fascination for children. This type of play goes beyond gender and teaches kids loads of life skills along the way. An investment in a play kitchen is money well spent, as it can provide hours of entertainment. We've rounded up the ten best wooden play ...read more
New Victory Announces a New Season of Shows
We know you're busy planning picnics and summer outings, but we wanted to let you know that The New Victory just announced their new season and it looks fantastic. We thought you'd like a sneak peek of what's in store! Each year the New Vic theater brings culture to tourists and ...read more
This all sounds too good to be true, right? Wrong. I've tried, and I can't find a downside to these yummy new shrimp bowls. They both are under 400 calories as well, making them perfect for your active and mindful lifestyle.
Isn't life so much simpler with dependable, delicious, and EASY wholesome meal options? That's why I trust Gorton's Fisherman. Next time you are at your grocer's be sure to pick up these new Shrimp Bowls, I promise you won't regret it!
This is a sponsored post.