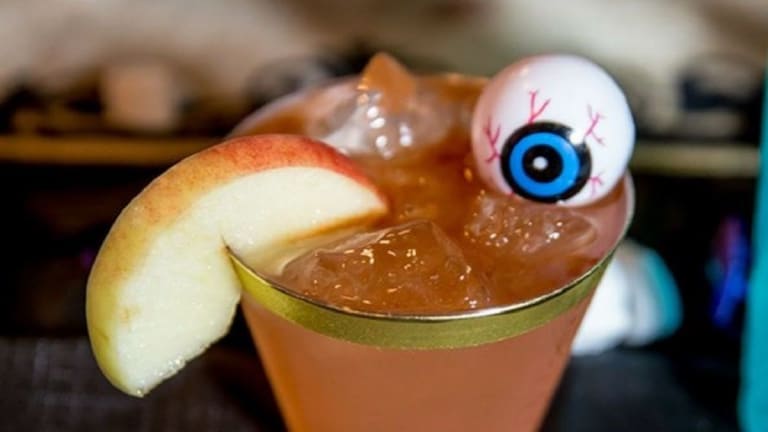 The Spooky Eye Halloween Cocktail
Here's a Frightfully Fun Cocktail to Kick Off October
Boo! October snuck up on us like a zombie in the night... Except, you know, faster. It feels like just yesterday we were sipping rosé and shaking up summer cocktails. But, suddenly, we find ourselves picking apples and celebrating Oktoberfest. Yes, fall is officially in full swing, and Halloween will be here before you know it. That mean's it's time for a Halloween-themed spooky cocktail.
Related: Spooksicle Halloween cocktail
We'll have lots of spooktacular inspiration coming your way in the next few weeks leading up to the 31st. Tasty treats, cute costumes, and kooky crafts (oh my!). We thought we'd kick off the frightfully fun festivities with a scary-awesome Saturday Sips, aptly named the "The Spook-Eye." If you like a colorful themed cocktail that's beginner level easy to make, you are in LUCK.
All eyes on this delicious drink recipe, below!
The Spooky Eye Halloween Cocktail Ingredients
5 dashes bitters
½ lime juiced
2 oz. citrus vodka
1 oz. green sour apple schnapps
Fill ginger beer
The Spooky Eye Halloween Cocktail Directions
Shake the first four ingredients over rocks in a rocks glass. 
Fill with ginger beer. 
Place a sliced apple inside for garnish.
How fun are those eye ping-pong balls? We love them and the gold-rimmed glasses. The best thing is that you can also use these eyeballs in your kids' morning orange juice too. Let me just tell you, they will get a kick out of that it in the morning!
Ah, yes, October is here... and welcome to Halloween central here at Momtrends.
WANT MORE FROM MOMTRENDS?
PIN IT!
Be sure to follow Momtrends on Pinterest and for more spooky inspiration follow our Halloween and Thanksgiving Boards here. 
This is not a sponsored post. All opinions are our own.