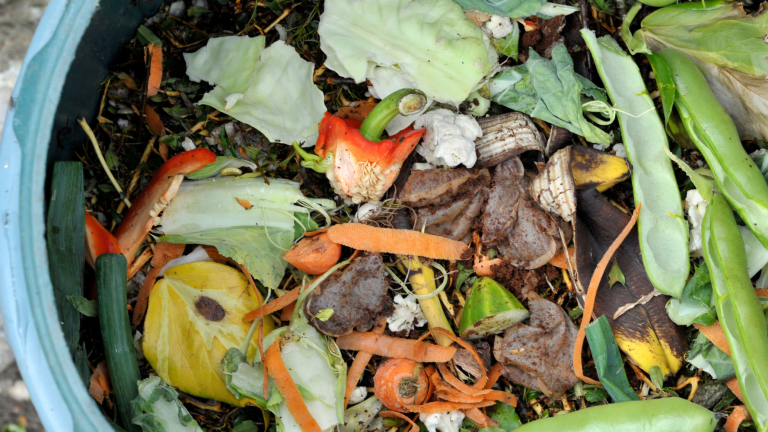 Publish date:
A Beginner's Guide to Composting
Composting doesn't have to be complicated. We've got great tips to get you started.
Composting doesn't have to be complicated. We've got great tips to get you started.
Composting. It sounds intimidating, but it's not nearly as difficult or expensive or complicated (or gross!) as it may sound. In fact, the truth is: composting is totally possible and more approachable than you think. With food scraps making up 30% of what is thrown away in landfills, composting is not only possible, it's also very important and helpful.
Related: Our favorite kitchen compost containers.
Three Compost Essentials for Beginners
Start simple: Full Circle, a sustainable home care brand that believes even the littlest changes can have the biggest impact, has launched the Scrap Sack. It is perfect for first-time and non-committal composters. It has a wide opening for easy filling and is 100% compostable and leak-proof, thanks to its plant-based film.
Get tossing: Easily throw your fruit and veggie scraps, eggshells, coffee grounds (and more!). Don't throw in any oils or fats like cooked food, dairy, meat or fish, or labels. Check out the EPA site for a full guide of what you can and cannot put in a home compost here.
Compost your compost bag: You can just toss the whole bag once it's full in your home pile, tumbler, or through your local community. Your local Department of Sanitation might have a compost pick-up program and there may be a drop-off at your farmers' market. If your community participates in a large-scale composting program, you may be able to compost even more than what is listed above. 

5 Pretty Ways To Organize Your Jewelry
I admit - I'm guilt. Despite my best efforts, my "jewelry drawer" has become a tangled mess of necklaces, bracelets and earrings. This cluttered collection not only makes it hard to see what I have, but difficult to untangle the pieces I do want to wear! This summer, I'm ...read more
This Year's Coolest Jumbo Pool Floats
Pool season is almost here! I can't wait to relax, read a book, and sip a cocktail while lazily drifting in an oversized float. (Just kidding, I have two toddlers--but a swim mama can dream, right?). If you've got a staycation planned, check out this year's coolest jumbo pool ...read more
Crystal Clear and Pristine: Pool-Cleaning Tips
Tropical Storm Isaiah gave us quite the midsummer surprise here in the suburbs of New York City. We just got our power back on after a whole week of darkness! With trees down, debris everywhere, and lots of uncertainty, one thing we forgot to check on: our above ground Intex ...read more
MORE ECO-FRIENDLY IDEAS FROM MOMTRENDS
PIN IT!
Use Pinterest to save your favorite ideas from Momtrends. Be sure to follow our Momtrends here.
This is not a sponsored post. Tips couresty of Full Circle co-Founder and Chief Innovation Officer Heather Kauffman