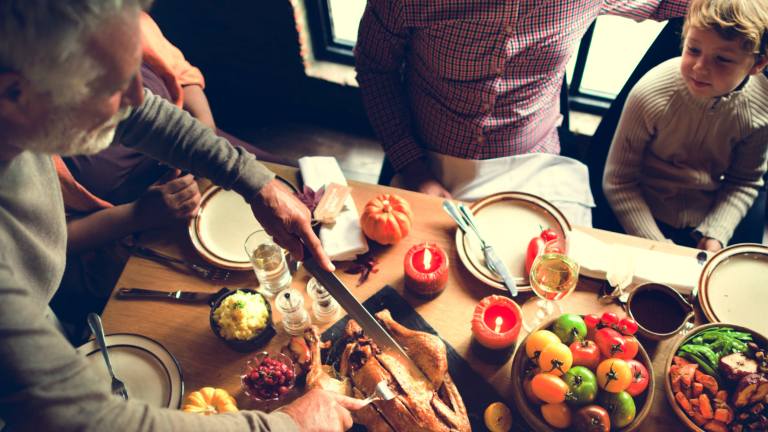 8 Tips to Raise Gracious Kids
It's never too late or too early to model gratitude for your tiny tykes. Here are eight ways to share lessons of thankfulness today and every day of the year.
Show appreciation to your children. Slow down and observe more closely. Notice things you appreciate about your kids—then tell them! Appreciation can be a more powerful motivator than praise and can be a strong way to feel connected to one another.
Show appreciation for others. Never underestimate the power of your words and actions. Your children are paying attention to the way you treat others, whether it's friends, neighbors, a teacher, or the cashier at the market. You set a great example when you model kindness, generosity, and gratefulness in your own everyday interactions.
Use the word "grateful." Children need to learn what this new word means. Explain that being grateful is noticing something in your life that makes you happy, such as, "I'm grateful that it's sunny today because it was raining yesterday." Mention gratitude when you're doing an everyday pleasant activity, like hanging out at the playground or eating watermelon on a hot day. Your enthusiasm will be contagious.
Make a Thankful Tree. Cut a tree trunk from cardboard or construction paper. Tape to a wall or window and cut out some leaf shapes. Ask your child to think of something he or she thankful for and write one on each leaf. Then tape the leaf to a branch. Add your own "thankful things." You can ask November visitors to participate as well, by giving them each a leaf to hang on the tree, too.
Share stories of thankfulness, gratitude, and generosity. The titles below, for children from birth to 5 years old, focus on different aspects of these important values:
Biscuit is Thankful by Alyssa Satin Capucilli
The Thankful Book by Todd Parr
Thanks for Thanksgiving by Julie Markes
Bear Says Thanks by Karma Wilson
Splat Says Thank You by Rob Scotton
Should I Share My Ice Cream by Mo Willems  
Thankful by Eileen Spinelli
Being Thankful by Mercer Mayer
Ordinary Mary's Extraordinary Deed by Emily Pearson
Did I Ever Tell You How Lucky You Are? by Dr. Seuss
Giving Thanks by Jonathon London
Don't Say a Word, Mama/No Digas Nada, Mama by Joe Hayes

Share "Roses and Thorns." Even young children can talk about what went well (roses) and what was hard about each day (thorns). It gives them, and you too, a chance to vent a frustration and focus on what is good in life.
Emphasize presence over presents. Some people manage to pull off the "no gifts" approach to their children's birthday parties. (The key is to start very young!) An alternative approach is to opt for a book swap or ask for donations to a local food bank or animal shelter. You can also make it a habit to give the gift of time and activities—like a birthday picnic and trip to a local park—as opposed to "stuff."
Talk openly about donations and other good deeds. You don't have to have a lot of money to make a difference. You can let your toddler put a quarter in a musician's hat or share a batch of cookies with a neighbor. If you have money in your budget to donate to a favorite cause, share this giving with your children: "We're giving some of our money to help animals that don't have homes." Keep explanations simple and matter-of-fact. As children grow up, they will eventually see that helping and giving are part of your family's culture. 
This is not a sponsored post. Thank you to the parenting experts at ZERO TO THREE for the tips. Zero to Three is the leading nonprofit dedicated to giving babies and toddlers a strong start in life, prepared the below guidelines for parents and caregivers. While young children can't yet see the world from somebody else's perspective, these practical tips can be used to build a sense of gratitude.