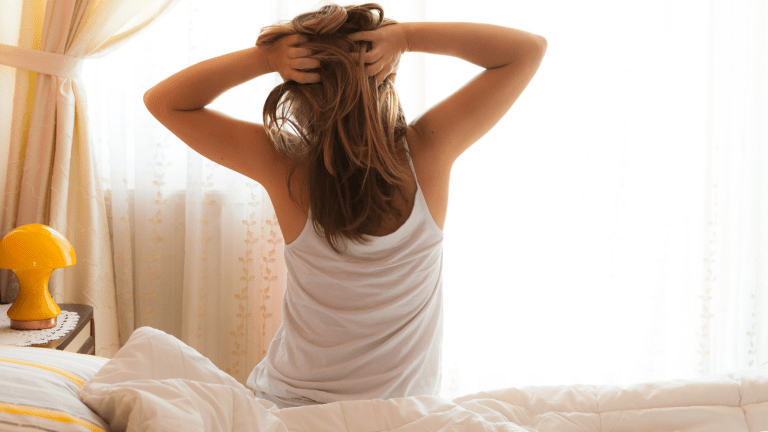 7 Habits to Help You Sleep More (and Rest Easier) This Year
Sleep is important to your overall wellbeing and mental health and we've got tips to make this a year for quality rest.
This year, make sleep your top priority. Go to bed at the same time each night, wake up at the same time each morning, and put your own slumber needs first. You'll feel like a newer, fresher, healthier, and happier version of yourself in a matter of weeks -- seriously, just give it a try and prove us wrong! Already feel like you have a pretty solid sleep routine down? We bet there are still some areas for potential improvement. We're sharing 7 tips (they're habits, really!) and a few products to help you get restful nights beginning now.
Related: 12 home fitness hacks
Tip #1: Wear blue light glasses when using devices at night
"Exposure to blue light at night will keep you awake by tricking your brain into believing it's daytime. This has a serious impact on your circadian rhythm and reduces your quality of sleep." explains Ian Chen. the founder of Pixel Eyewear. Many types of blue light glasses can filter out 50 percent of blue light and up to 95 percent at the strongest wavelengths, without the yellow tint.
Tip #2: Find a better pillow
Are you perpetually flipping your pillow to get the "cool side?" Are you on the quest for a pillow that's equal parts soft and firm, supportive and cushiony? 
Check out the Sofi pillow. First, it maintains the perfect temperature, and was crafted and designed with sleep science in mind. The top layer is woven from ice yarn and stuffed with down feathers resulting in a luxurious feel which is cool to the touch, but never cold, keeping you cool and comfortable all night long. The core is filled with micro-tube gel-infused memory foam that molds to your form without losing any support aspects as Sofi suspends your head to an optimal height for constant contentment. The middle mesh layer is woven from an ultra-breathable mesh that keeps the structure intact while promoting breathability, meaning no need to fluff your Sofi in the middle of a night's sleep. Finishing off the design, Sofi has a super soft sateen base, which is ideal to wrap your arms around if you're a stomach sleeper.
Tip #3: Block out distractions and light with an eye mask
For a peaceful night's beauty sleep, the CILQUE (pronounced "silk") mask will help -- plus, it can improve your beauty regimen with skin-boosting benefits, too. Win-win. What's more, the simple ritual of putting on a face mask can signal to your brain that it's time to shut down and go to bed. 
Tip #4: Use breathable, moisture-wicking sheets
Do you wake up in the middle of the night perspiring and overheated? You need new sheets. PeachSkinSheets are amazing because they are made of a high-performance 21st-Century SMART fabric that helps warm sleepers stay cool and cool sleepers stay cozy. Even better? They also help with night sweats by keeping skin drier and wicking away moisture, instead of absorbing it like cotton will. The breathable advanced poly fibers act like workout clothes to keep the moisture off of your skin so you stay comfortable all night long. Plus, they are hypoallergenic and antimicrobial, which keeps pollen and dust from attaching to the fabric. 
Tip #5: Drown out external noises and slumber to the calming sounds of nature
Sound+Sleep SE is the world's most advanced sound machine to help you sleep better. It offers 64 distinct sound profiles scientifically engineered to promote deeper sleep, relaxation, and renewal. Unlike other "White Noise" sound machines, it uses naturally recorded, high-definition sounds that constantly evolve and never loop, eliminating all audio repetition for real-world natural sound experiences. In addition, it features patented Adaptive Sound technology empowering the machine to intelligently listen to your environment and automatically raise the volume to mask out unwanted noises. With "Adaptive" mode on you get a smart machine giving you the best volume experience.
Tip #6: Take a bath 90 minutes before bed
Studies find that taking a hot bath about 90 minutes before bed could help people fall asleep more quickly. The hot water actually helps change your body's core temperature so that you go to bed with a lower temperature. A drop in temperature helps signal to the body that it's time for bed.
Keep your hands free and let your bath do the work for you:
Studies found that an hour long hot bath can burn up to 130 calories, the equivalent of walking 30 minutes.
Baths can provide relief from muscle cramps, tension, and alleviate headaches.
Baths not only alleviate stress and anxiety, they promote better sleep.
Immersion in water past your chest improves lung capacity and oxygen intake.
Taking a warm or hot bath increases serotonin levels, the brain chemicals associated with happiness and wellbeing.
Taking a hot bath can kill bacteria and improve immunity. 
Tip #7: Meditate 
By relaxing your body and brain, it's easier to quiet the distracting thoughts that keep your mind buzzing. Studies have found that meditation can help reduce cortisol, which is the hormone associated with stress. Meditation increases the natural melatonin levels to help with more restful sleep. 
What are you doing to get more sleep and better sleep in 2021?
Want more life hacks from Momtrends?
Pin it!
Use Pinterest to save your favorite posts. Be sure to follow our Fitness & Health board here.
This is not a sponsored post. All opinions are our own.