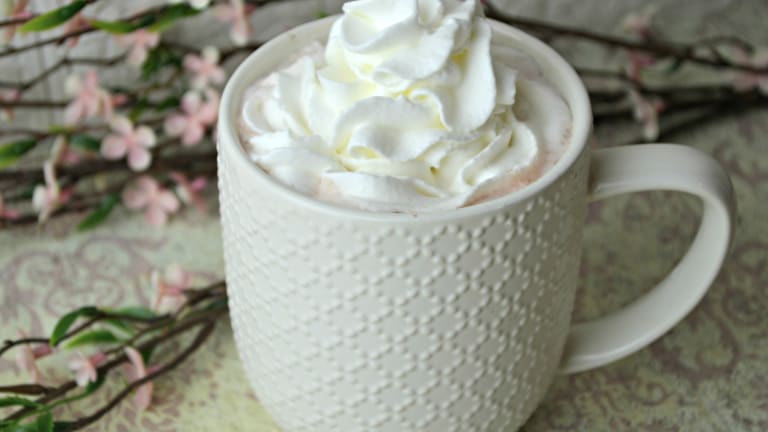 6 Hot Drinks to Warm You Up
These tasty hot drink recipes will keep you warm all winter.
Who wants some nice hot drinks to warm you up? Don't we all?! If this winter has been anything, it's been COLD. Am I right? Even the southern states have been experiencing more than their typical amount of cold snaps. I can attest to that. This girl has had her fireplace going more often than not these days. And you know what goes perfectly with a crackling fire on a cold winter night? A nice hot drink of course! 
Related: Hot chocolate ideas for winter
It may be chilly out there, but give me my fire, a hot cuppa something, a cozy throw and some slippers and I am one happy girl. And I know I'm not the only one who loves to sip on something hot this time of year, so on that note...
I thought I would share 6 hot drinks to warm you up...
1. Strawberry Hot Chocolate...If you're looking for the perfect hot drink to serve on Valentine's Day, look no further! This pretty in pink beverage not only looks the part, but it tastes divine! It's the perfect drink to serve at a Galentine's Day get together. Your girls will definitely appreciate it!
2. Hot Buttered Rum...Nothing says classic winter drink like this recipe. It's the kind of hot drink you want to have on hand when you settle down for a Hallmark winter movie sesh. Yeah, that's right. They make more than holiday movies. Bwah!
3. Baileys Hot Cocoa...And to keep with the boozy trend, haha, this adult hot chocolate recipe is just the thing to serve to your honey if you manage to convince him to watch one of those Hallmark winter movies with you. Just sayin'.
4. Hot Toddy...If you can't name someone in your family or social circle who has come down with a cold or the flu, you're very lucky. But if you're like most of us, you know someone who's sick right now. Be a friend. Make them a hot toddy! 
5. European Hot Chocolate...Clearly hot chocolate is heavily represented here, but what can I say? I love it! And there are so many different ways to make it. This Euro version, for instance, uses a dark chocolate bar so as not to be too sweet. Mmmmm!
6. Spiked Dark Hot Chocolate...And there's more than one way to spike hot chocolate too! While the recipe I shared before calls for Baileys, this one calls for rum. All you have to do is pick your poison!
So, the next time you feel like you need a little warming up, turn to one of these hot drinks and I daresay you'll be toasty in no time! 
More Warm Up Recipes from Momtrends
Pin it
Save your favorite ideas on Pinterest and be sure to follow our board Ski Mom Stuff for more winter food and drink ideas.
We were not paid for this post.