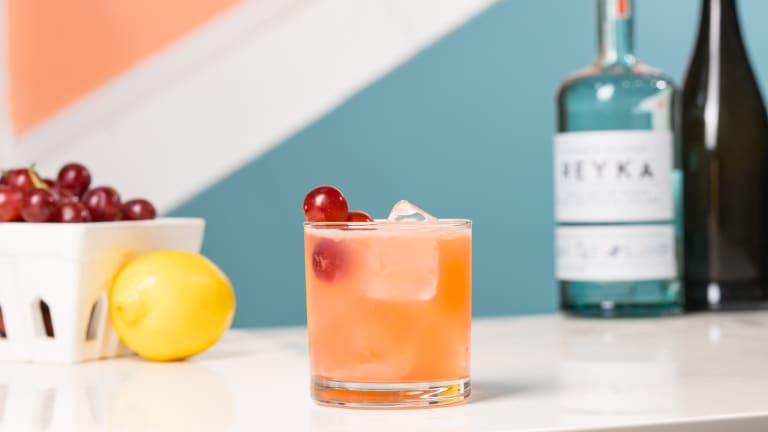 6 Cocktails to Sip This Alfresco Season
We're approaching 60-degree+ weather here in New York; and, after months of being stuck inside (because of the weather and COVID restrictions), we are super ready to rejoin civilization in a safe and delightful way. Step 1: Having alfresco cocktails with friends. Now that we can take things outdoors again, it's time to step up our mixology game. Fortunately, we have _ delicious ideas that are easy to make and fun to sip together. Cheers to some semblance of normalcy this spring!
BACKYARD TEA 
Ingredients:
Method: Build all ingredients in a rock-filed highball glass. Garnish with a lemon wedge.
ENDLESS SUMMER 
Created by Aisha Sharpe
Ingredients:
1.5 parts Reyka Vodka
1 part Chardonnay
8-10 seedless red grapes
.75 part Lemon juice
.75 part Simple syrup
Method: Place 8-10 seedless red grapes into the Collins glass and muddle. Add the rest of the ingredients and stir. Garnish with a few whole grapes.
CUCUMBER LEMONADE 
Ingredients:
1 parts Hendrick's Gin
1 parts Lemon Juice
1 parts Sugar Syrup
3 parts Soda Water
Method:
Combine all ingredients in a highball filled with cubed ice. Lightly stir and serve. Garnish with 3 thinly sliced rounds of cucumber
WTF (WHISKEY TIKI FOXTROT)
Ingredients:
1½ parts Fistful of Bourbon
¾ parts mango juice
¾ parts simple syrup
½ lime juice
2 dashes Burlesque Bitters (Tiki Bitters)
Method: Combine ingredients and shake well. Strain over crushed ice into a Collins glass. Garnish with lime wheel.
NEW YORK RYEBALL
Ingredients:
Method: Build all ingredients in a cocktail shaker, shake with ice. Strain into a highball cocktail glass over fresh ice. Garnish with a long orange peel.
THE MILAGRO PALOMA SELECT 
Ingredients:
1 1/2 parts Milagro Select Silver
1/2 part agave nectar
1 part pink grapefruit juice
1/2 part fresh lime juice
3 parts soda
1 Pink Grapefruit Wedge
Method: Pour all ingredients, except sparkling water, into a Boston shaker. Add ice, shake and strain over fresh ice into a highball glass and stir. Top with sparkling water. Garnish with pink grapefruit wedge.
Want more cocktail ideas from Momtrends?
1. Blue Heat Wave Cocktail Recipe
2. Sparkling Blood Orange Screwdriver Cocktail
This is not a sponsored post.