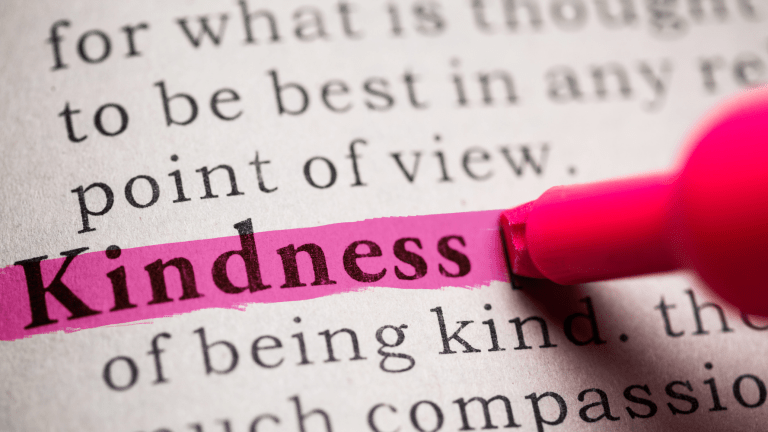 6 Acts of Kindness That Will Make Someone's Day
You never know how your actions will affect someone else, and that's why teaching kids kindness is always the right choice.
Kindness is not overrated. In fact, a little bit goes a long way. It can be as simple as a giving a stranger a compliment or as elaborate as a home-cooked meal delivered to someone in need, either way it can make someone's day. 
I'll never forget the time I was struggling with my three kiddos at the grocery store, and a woman came up to me and gave me a knowing glance and an encouraging word. It was simple but it lifted me up. She also got me a bouquet that the cashier handed me; I was stunned and moved to tears. You never know how your actions will affect someone else, and that's why kindness is always the right choice.
In honor of National Random Acts of Kindness Day, we're sharing six simple ways to make someone's day.
Help Out a Friend or Neighbor Anonymously. Make someone smile with no strings attached —shovel the snow from your neighbor's sidewalk, or leave a basket of cookies just because, no thanks needed. My local neighborhood Starbucks is famous for their "pay it forward" drive through line. I can't tell you how many times, the person in the car in front of me has paid for my order. This simple act of generosity is infectious. It makes you want to do good, be better, and inspire others to try harder as well.
Be a Baby/Dog/Cat-Sitter– for Free. Many parents (of humans and fur babies!) forgo taking time out for themselves because sitters' rates are often expensive. They will certainly appreciate your offer to look after their precious little ones without charge. Better yet, invite a friend's kiddos over for a play date or sleepover with your children. Give a struggling mom (or dad) a full night off to recharge. 
Bring Out the Chalk! Everybody loves to be appreciated and cheered. On a nice day, surprise someone with a special message using sidewalk art! You may never realize how much it lifts someone's mood. On the first day of school, our community organized a sidewalk chalk project that was meant to delight, inspire, and encourage kids with colorful images and words of wisdom.
Make a Kindness Jar! Keep track of all acts of kindness with a Kindness Jar. Every time someone in your family does a random act of kindness, write it on a piece of paper with their name and put it in the jar. When it's full, sort through it to see who was the kindest. Then, that person can pick an act of kindness that everyone else should do.
Celebrate a Friend for Being Awesome. For older kids, text or message friends and let them know they are special with a fun silly gif video or go to and celebrate a person for being and doing something awesome.. Better still, handwrite a traditional letter to tell somehow how much you admire them.
Create a Kindness Challenge from the AWESOME app. Using the Kindness template, upload a photo or video clip, adding a title for your Kindness Challenge then put a short description. It will be available to all the thousands of users on AWESOME. You are also able to share it on any of your other social channels. When your friends and others join in the kindness challenge inside of AWESOME app, they get points and can level up and up the more kindness challenges they do.

Want more from Momtrends?
Pin it!
Use Pinterest to save your favorite articles. Be sure to follow our Parenting Tweens and Teens board here.
This is not a sponsored post. Some tips courtesy of Bert Pope, father of four and the CEO of Awesome Company Worldwide