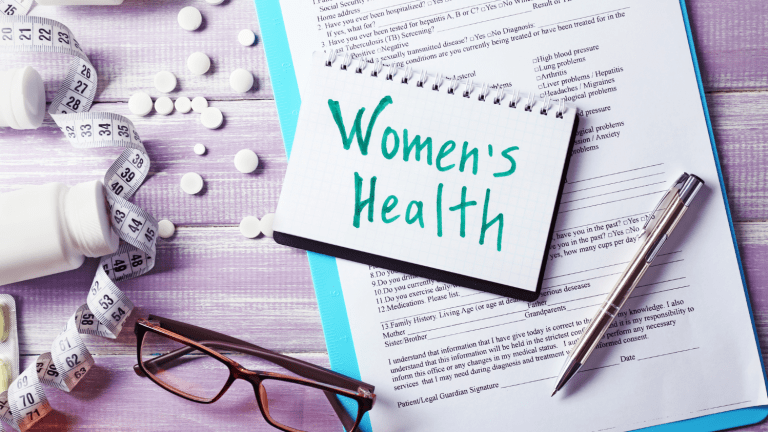 5 Ways to Take Charge of Your Wellness Now
National Women's Health Week is in early May each year, it's a great time to put your health at the top of the the to-do list.
It's National Women's Health Week, and if there was ever a time to focus on your physical, mental, and emotional well-being it would right now. In this midst of this crazy unprecedented time, we're all experiencing massive stress and major life adjustments. In a matter of days, we became full-time work-from-homers, full-time home-school teachers, and full-time short order-cooks. 
Related: Breast cancer awareness tips to empower yourself
Furthermore, in the wake of the Covid-19 pandemic, we're so focused on avoiding germs that many of us are neglecting other needs--whether that means skipping important doctor's appointments or losing sleep. That's why, more than ever, it's important for women to prioritize their health. We're sharing five ways to get back on track.
5 Ways to Take Charge of Your Wellness Now
Embrace the changes in all life's stages. "Women's bodies have different needs at 20, 40, 50, and 60+, so develop a health strategy for every phase, says Mary Jane Minkin, MD, Clinical Professor of OBGYN at Yale University. "You should feel comfortable talking to your gynecologist about anything and everything regarding your body. If you don't have that kind of trust, find another doc." She also recommends getting your mammogram, pap smear and a colonoscopy on a regular schedule. Even if you're unable to physically go to your doctor's office right now, set appointments up now so that you can get these important tests done as soon as it's considered safe.
Don't Consult Dr. Google. Lauren Streicher, MD, Clinical Professor of Obstetrics and Gynecology at Northwestern University and medical director of the Northwestern Medicine Center for Menopause and the Northwestern Medicine Center for Sexual Health, says women should have an at-home 'Gyne Toolkit' for common health issues as many doctor's offices remain closed to seeing patients in the office. "Women can safely and effectively take care of many common health issues right at home," says Dr. Streicher. "However, it is important to know when something does require immediate medical attention." 
Ensure You are addressing your nutrient needs: As women age, there are many factors that may impact their nutritional needs, but women don't always know which nutrients may be beneficial to their overall wellbeing in the aging process. Nicole Avena, PhD, Assistant Professor of Neuroscience, Mount Sinai School of Medicine, Visiting Professor of Health Psychology, Princeton University discusses the top five nutrients all women need more of, how to get them, and how to navigate/prepare for nutrition needs as women get older.
Address your skincare needs: Skincare is an essential part of a woman's well-being and taking care of your skin as you age becomes a necessity. Elizabeth Mullans, M.D., Board-Certified Dermatologist at Uptown Dermatology, is available to discuss the best protocols to take in order to sustain healthy-looking skin at any age.
Shake up your fitness. Each decade brings new health challenges. Maybe it's time to upgrade your workout. This could be the year you join a tennis club, take up cycling or start yoga. Take time to invest in a personal trainer or running coach. Trying something new is good for your body and mind. This is especially important as women age. We need to build muscle to keep active. 
MORE FEATURES ON FEMALE HEALTH FROM MOMTRENDS
PIN IT!
Use Pinterest to save your favorite ideas from Momtrends. Be sure to follow our Fitness and health board here.
This is not a sponsored post. All opinions expressed are our own and are not intended to diagnose, treat, or cure. Momtrends is providing these tips for educational purposes only.