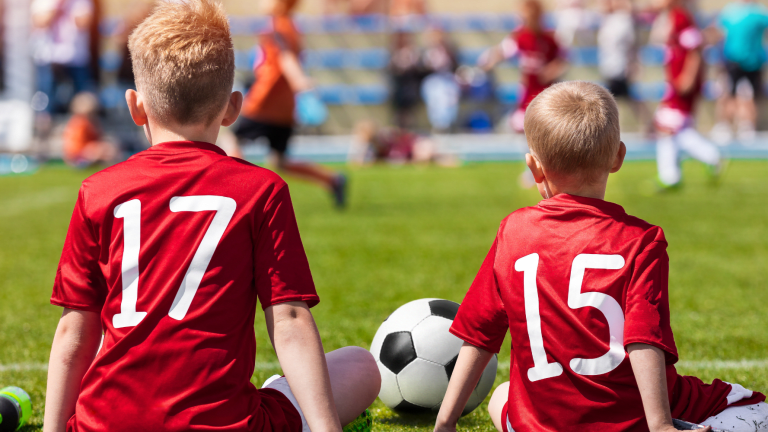 5 Tips for Over-Stressed, Over-Stretched Sports Parents
How to Make the Transition Simpler This Back-to-School Season
Back-to-school season--we're all about to be very busy once again. Over-scheduled, over worked, and over committed. But I'm not complaining--I like having full plates. Soccer Saturday, dance classes, martial arts, and more. I'm excited to get the kiddos back on routines and fill their afternoons and weekends with extra-curriculars and activities. 
Nevertheless, let's face it: parents of kids involved in lots of activities and sports have A LOT to contend with during the already jam-packed fall season. Driving to practices after school and games, washing seemingly endless amounts of dirty laundry, planning for the entire season calendar (sometimes for multiple kids of different ages across multiple sports), packing snacks and meal prepping. The list goes on.

Not surprisingly, as children participate in more and more organized team sports, both the time and the financial commitment that are needed from Mom and Dad have skyrocketed.
And that's just the tip of the iceberg when it comes to the stress that can accompany this type of commitment. 
Fortunately, there are ways to make this crazy transitional time easier for yourself and the kids. 
CUT DOWN ON BACK-TO-SCHOOL STRESS BY GETTING SPORTS CALENDARS ORGANIZED NOW 
Right off the bat, parents of kids who play on school sports teams said they were 33% more stressed about the start of the new school year than parents of kids who don't play on school sports teams. One way to help relieve that stress? Treat your kid's sports schedule like you do your work meetings and weekend social events, and add their practices and games to your calendar and mobile device. 
LEARN THE ROPES: MEET SCHOOL COACHES & BUILD EARLY RELATIONSHIPS 
35% of dads and 11% of moms admit they've gotten into a heated argument at one of their child's school-related sporting events-- either with a referee, coach, or other parent. Pro tip: If you get to know somebody, you're less likely to want to punch them in the face or threaten to egg their house because they made a bad call or they took your kid off the field for a much-needed rest. 
ESTABLISH SLEEPING SCHEDULES & ROUTINES NOW TO EASE THE TRANSITION 
For parents of kids who play school sports, the time commitment associated with their child's sports involvement is the number one cause of stress when school sports season starts back up (40%). Cut down on this stress by setting aside ample time for you AND your kids to catch up on sleep when they aren't scoring goals and hitting homers and you aren't shuttling them around town from the field, to the court, to the rink. 
ENCOURAGE KIDS TO HAVE FUN & BE TEAM PLAYERS ON SCHOOL SPORTS TEAMS
It turns out sports moms and dads have very different goals for their youngster's athletic involvement. For moms, the top goal for their child is to have fun (38%). For sports dads, the top priority for their child is to learn teamwork and leadership skills (34%). With all of these goals in mind this back-to-school season, try and remember that a big part of youth sports is helping your child grow into a well-rounded, respectful adult who knows how to handle wins, losses, and adversity. 
PROPER MEAL-PREP & SNACKS ARE CRUCIAL FOR SPORTS PARENTS
It's no secret that young athletes are growing and usually hungry, and 95% of parents with kids who play school sports said it's a top priority for them to ensure their kids have nutritional meals and snacks throughout their school day to maximize their endurance and performance. Some friendly advice--find some healthy, protein-packed snacks that your kids like, and stick with them! A big part of success on the field is routine, and the less your child has to worry about, the better. 
SEEK OUT CARPOOLS WITH THE MOST ON-THE-BALL SPORTS PARENTS 
Fun fact: a relatively equal amount of sports moms (59%) and dads (58%) said they drive the classic sports parent minivan. FlipGive recommends setting up a back-to-school carpool with parents who have kids that play on the same team as your child in advance of the first day to cut down on last minute planning and to avoid the dreaded shame that comes with getting your child to practice late. 
Want more back-to-school advice from Momtrends?
1. How to Get Your Child Socially Ready for a New School Year
2. How to Bridge the Gap Between Home Room and Homework
3. 5 Tips to Get Your Kid Prepared for Classroom Learning 
This is not a sponsored post. Tips courtesy of FlipGive, the team funding platform that has helped over 35,000 youth sports teams and clubs across North America raise $20 million.