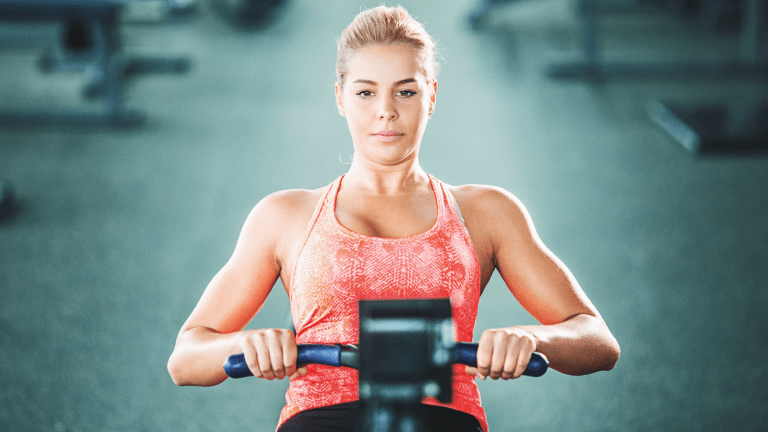 Publish date:
5 Reasons to Add Rowing to Your Exercise Routine
If your workouts are feeling stale, it might be time to shake things up and trying a new routine, a new piece of equipment, and a whole new vibe. 
As moms, we often get stick to what works. Its hard enough to squeeze a 30-minute exercise session into a day, let alone try something different and experiment. But our bodies can be accustomed to the sale ole cardio regimen (as hearty as it may be), and taking things out of our comfort zone can help us move forward, physically and mentally. 
One often overlooked but super effective workout for moms? Rowing. Yes, as in that machine at the gym all the older folks gravitate to. Turns out, you can seriously spice up this otherwise mundane movement, and make it extra fun, super sweaty, and totally awesome. Want to know why you should try a rowing machine -- or, better yet, take a group rowing class (they exist!)? We're sharing the top 5 reasons to give it a go. 
Lower Body Strength: Rowing will strengthen the lower body. Stronger legs are great for all those hours that you spend carrying around your babies.

5 Pretty Ways To Organize Your Jewelry
I admit - I'm guilt. Despite my best efforts, my "jewelry drawer" has become a tangled mess of necklaces, bracelets and earrings. This cluttered collection not only makes it hard to see what I have, but difficult to untangle the pieces I do want to wear! This summer, I'm ...read more
This Year's Coolest Jumbo Pool Floats
Pool season is almost here! I can't wait to relax, read a book, and sip a cocktail while lazily drifting in an oversized float. (Just kidding, I have two toddlers--but a swim mama can dream, right?). If you've got a staycation planned, check out this year's coolest jumbo pool ...read more
Crystal Clear and Pristine: Pool-Cleaning Tips
Tropical Storm Isaiah gave us quite the midsummer surprise here in the suburbs of New York City. We just got our power back on after a whole week of darkness! With trees down, debris everywhere, and lots of uncertainty, one thing we forgot to check on: our above ground Intex ...read more
Low Impact/Low Risk: Rowing is a low impact exercise with low risk of injury so it will flush out the legs and get the blood pumping. If you are pregnant, it's a great option you don't have to support the extra weight you are carrying, which can exceed 40 pounds.
Cardio: Rowing is a great cardio workout, but it's easily scalable to whatever level of intensity you want. Want to get the heart pumping, rev it up? Need to keep it slow and steady, go at your own pace.
Mobility and Posture: As moms, we're often carrying kiddos on our shoulders, cradling them in our arms for hours on end, hunched over cribs and changing tables -- it can take a toll. Rowing stretches and opens the upper body, providing upper back, neck and shoulder relief.
Rowing Is Versatile: You can rock out and do it to music, you can binge watch television as you get the job done, or you can choose to do a whole cardio class or try just a few minutes for upper body conditioning.
Want more from Momtrends?
1. 5 Reasons to Stray Hydrated When You're Pregnant
2. 7 Habits to Help You Sleep More -- and Sleep Better
This is not a sponsored post. Some tips courtesy of Caley Crawford for Row House.